Newspaper review: Spending Review dominates papers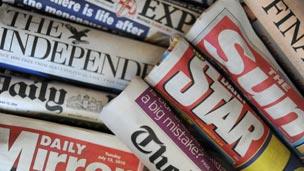 "Axe Wednesday" - that's the front page headline in the Independent - and it is echoed in all of the papers.
The Daily Express believes the "brutal scale" of the cuts will "deliver bad news to all sections of society".
The Sun sees the cuts as "a necessary evil" and insists the blame lies with "incompetent, irresponsible Labour".
The papers differ wildly in their attitudes towards the impending news.
In complete contrast, the economist Joseph Stiglitz, writing in the Guardian, argues the case against cutting altogether and calls instead for another stimulus.
Government sources are happy to get hundreds of millions of pounds of expenditure off their books, it claims, while BBC executives are happy to have some stability for the future.
The Beeb is no exception to the "we're all in this together" mantra, it adds.
The future of Wayne Rooney is the subject of speculation in the tabloids and broadsheets alike.
Showing an aircraft carrier complete with football goalposts, it says: "Since we can't afford any fighter jets, we've bought Wayne Rooney."
Related Internet Links
The BBC is not responsible for the content of external sites.