Newspaper review: Spending Review dominates papers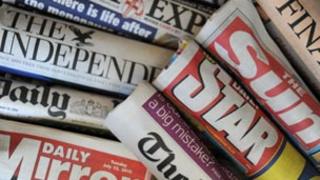 "Axe Wednesday" - that's the front page headline in the Independent - and it is echoed in all of the papers.
The Daily Express believes the "brutal scale" of the cuts will "deliver bad news to all sections of society".
That, says the Financial Times, is the whole point. "As long as everyone hates us," one architect of the cuts reportedly tells the paper, "it's OK".
The Sun sees the cuts as "a necessary evil" and insists the blame lies with "incompetent, irresponsible Labour".
'Confidence fairy'
The papers differ wildly in their attitudes towards the impending news.
For the Daily Telegraph's Simon Heffer the looming cuts "are nowhere near enough" and "will leave a state that is still too large".
In complete contrast, the economist Joseph Stiglitz, writing in the Guardian, argues the case against cutting altogether and calls instead for another stimulus.
"To choose austerity", he writes, "is to bet it all on the confidence fairy."
'Playing hardball'
A six-year freeze of the BBC licence fee is a small victory for households amid all the bad news, says the Times.
Government sources are happy to get hundreds of millions of pounds of expenditure off their books, it claims, while BBC executives are happy to have some stability for the future.
Other Whitehall sources have apparently told the Daily Mail that they "played hardball" with the BBC over the deal.
The Beeb is no exception to the "we're all in this together" mantra, it adds.
Football focus
The future of Wayne Rooney is the subject of speculation in the tabloids and broadsheets alike.
The Daily Mirror hopes his desire to leave Manchester United "has nothing to do with money", as he "makes in a week what most fans work years to earn".
The Daily Telegraph's Matt cartoon mixes sport and politics.
Showing an aircraft carrier complete with football goalposts, it says: "Since we can't afford any fighter jets, we've bought Wayne Rooney."