Doctor speaks of 7/7 frustration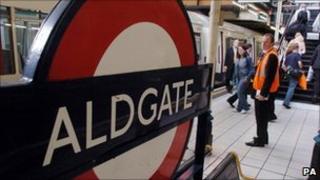 A doctor who survived the 7 July bomb attack at Aldgate has spoken of her frustration over being unable to do more to help the victims.
Gerardine Quaghebeur said she had no first aid supplies and could only offer comfort to the injured.
The coroner hearing the inquests said Dr Quaghebeur underestimated the importance of what she did.
Victim Carrie Taylor's father thanked her for staying with his daughter so she was not alone in her final moments.
Dr Quaghebeur, 50, a consultant neuroradiologist at the John Radcliffe Hospital in Oxford, was travelling to her second job in London in the second carriage of the Circle line train, when Shehzad Tanweer detonated his bomb.
She said she was about to evacuate the train following the explosion when she looked to her right and for the first time saw the dead and dying passengers in her carriage.
One of the injured, professional dancer Crystal Main, looked at her and said, "You can't be leaving us - you're not going to leave us?"
The doctor replied, "No, no, I'll stay", and asked if she could remain.
Miss Taylor, 24, appeared to have spinal and head injuries and Dr Quaghebeur said she cradled her in her arms to comfort her for about an hour.
But she said she did not feel she achieved anything on the stricken train.
"I am a doctor, but really I was no more professional - what can you do in a situation like that?" she asked.
"You can't do anything, you're completely on your own, you have no first aid to give, you have no airway to give.
"You have absolutely nothing to give other than to maybe comfort the people that are alive."
'Courage and humanity'
Miss Taylor's father John asked her why she stayed on the train.
Dr Quaghebeur replied: "It was to comfort her and it was to comfort some of the other people in the carriage and not leave them alone."
Mr Taylor said: "Thank you very much for that."
He also asked her: "It was your opinion that Carrie would not have survived unless she got medical aid immediately?"
She answered: "Nobody would survive an injury like that without aid. I still don't know whether she would have survived if aid had come earlier."
CLICKABLE Find out more about the victims of the Aldgate bomb attack.
Lee Baisden
Age: 34
Mr Baisden was standing right next to the bomber Shehzad Tanweer. The accountant worked for the London Fire & Emergency Planning Authority and had recently set up home with his boyfriend, but also spent a lot of time looking after his widowed mother.
He travelled to Liverpool Street from Romford, Essex, and got on the Circle line through Aldgate on his way to work in Westminster.
Richard Gray
Age: 41
Mr Gray was a tax accountant who commuted to London from Ipswich. He was married with two children. One friend described him as "a gentleman of modest disposition, charm, courtesy and subtle humour and above all he was a family man". Mr Gray was standing opposite Shehzad Tanweer.
Anne Moffat
Age: 48
Anne Moffat was head of marketing and communications for Girlguiding UK. She was standing in the middle of the carriage between both sets of doors, close to the bomber. She commuted from Harlow, Essex, to her office in Victoria.A colleague Muriel Dunn said: "Her loss is a terrible tragedy and she will be greatly missed."
Benedetta Ciaccia
Age: 30
The Italian-born business analyst was preparing for her wedding when she was killed at Aldgate. She was standing in the carriageway opposite the bomber and the evidence indicates she died instantly. Her fiancé, Fiaz Bhatti, spent a week on London's streets with a homemade missing person poster, hoping she may have survived.
Richard Ellery
Age: 21
Mr Ellery had recently started working for Jessops Cameras in Ipswich and was in London for a training course. First aiders tried unsuccessfully to save him at the scene. His father, brother and flatmate searched for him in London, until his death was confirmed. The family said he had been "a fun loving boy, full of enthusiasm for life".
Fiona Stevenson
Age: 29
Miss Stevenson was a lawyer on her way to Hammersmith Magistrates Court. Her firm described her as "hard-working, conscientious and supremely able", driven by her determination to represent the weak. She grew up in the Chelmsford area and had friends around the world. Her family said she was passionate about human rights and wanted to work for the United Nations.
Carrie Taylor
Age: 24
Miss Taylor was on her way to work at the RSA. She commuted from Billericay, Essex, with her mother. June Taylor said they would always kiss goodbye at Liverpool Street. Then Miss Taylor would turn and wave until out of view. "I'm so very glad that the last picture I have of her is smiling and waving at me," Mrs Taylor said.
Dr Quaghebeur said the emergency services did not arrive to help for some time, but in the meantime other passengers continued to evacuate.
She said: "They all walked past in a row and nobody came. Well, that's not true. A couple of people came to take pictures, which I got really annoyed about and I got cross. I think a policeman said they would stop [them] doing that."
After she completed her evidence, the coroner, Lady Justice Hallett, told her: "You offered comfort and assistance to some people in dire distress and dire circumstances.
"In my judgment you behaved with great courage, determination and humanity, and there are a number of people who have very great cause to be grateful to you."
'Video nasty'
Earlier, Mr Taylor questioned one of the last people to see his daughter alive in an emotional exchange at the inquest.
He told survivor Melvin Finn that the young woman he had helped following the bomb was "probably my daughter, Carrie".
Mr Finn told the court that her eyes were closed but she "appeared to be alive".
Asked by Mr Taylor whether his daughter had said anything or murmured, Mr Finn replied: "No, absolutely nothing, nothing at all".
Another survivor of the attacks has described awaking to a scene like a "video nasty" after being knocked out for 30 minutes.
Hilary Collyer told the inquests she asked a fellow passenger what had happened and was told: "I think there's been a bomb, love."
She said she waited about an hour to be taken to hospital after evacuation, despite being classed "priority two".
She said the moment of the explosion was as if someone had "flicked the light switch" and she lost consciousness.
"The way I have described coming to was I felt I had fallen asleep on the sofa and someone had put a video nasty on the telly.
"But I remember coming to with this scene around me just completely disorientated, just wondering what had happened."
The inquest has also heard that police shut down the O2 mobile phone network to the public around Aldgate Tube station after the attacks to prevent overloading.
A senior officer from City of London Police invoked powers to restrict use of the network to members of the emergency services with special handsets.
The inquests into the 52 deaths are expected to take up to five months.
To see the enhanced content on this page, you need to have JavaScript enabled and
Adobe Flash
installed.