British soldier killed in Afghan explosion named by MoD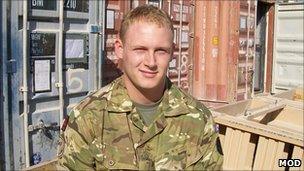 A British soldier killed in an explosion in southern Afghanistan has been named by the Ministry of Defence as Acting Corporal David Barnsdale.
The 24-year-old, from 33 Engineer Regiment was clearing improvised explosive devices when one detonated in the area east of Gereshk on Tuesday.
Acting Cpl Barnsdale, who was from Tring in Hertfordshire, was on his second tour of duty in the country.
A total of 341 British troops have died in Afghanistan since 2001.
Acting Cpl Barnsdale leaves behind his mother Wendy, his father Stephen, his sister Vanessa and his girlfriend Helen.
In a statement released by the MoD, they said: "David was a hugely popular guy, a fantastic son, grandson, brother, boyfriend and friend who will be sorely missed.
"We thank everyone for their kindness and support at this difficult time."
In a statement also released by the MoD, Lt Col Mark Davis, commanding officer of the Counter-IED Task Force, said Acting Cpl Barnsdale was a "young, bright and incredibly likeable team leader."
He said: "He died leading his men in what must be one of the most dangerous tasks in the Armed Forces - that of deliberately searching for IEDs.
"He embodied the finest traditions of a soldier, constantly displaying bucket loads of grit and determination; he was utterly professional but always with a dash of humility."
Acting Cpl Barnsdale, in his role as a team commander for a Royal Engineers Search Team, was responsible for detecting the IEDs in area which had been categorised as "high risk" .
He joined the Royal Engineers in September 2002 and had spent time touring in Iraq and Afghanistan previously.
He was posted to 33 Engineer Regiment (Explosive Ordnance Disposal) in October 2009.
'Irrepressible enthusiasm'
Acting Cpl Barnsdale was described in tributes as an "enthusiastic football player and sportsman", who supported Queens Park Rangers.
Lt Col Simon Bell, commanding officer of 33 Engineer Regiment, said the soldier's operational service had been "exemplary" and said his loss would be heavily felt.
"My overwhelming memory of Acting Cpl Barnsdale will be his irrepressible enthusiasm and no nonsense approach.
"Always wearing a wry smile wherever he was and whatever he was doing, always happy to set you straight and voice an opinion, a truly refreshing trait."
Maj Rod Brown, of 61 Field Squadron, agreed and added: "Soldiers like Acting Cpl David Barnsdale are the sturdy foundation on which the Army is built.
"His selfless devotion to those under his command and his unique ability to see the good in every situation was equalled only by his professionalism and drive."
He added: "With imminent promotion and a bright future ahead of him, Acting Cpl Barnsdale's death is a tragic loss to his squadron, regiment, corps and service."
Related Internet Links
The BBC is not responsible for the content of external sites.