Newspaper review: Who will bear the brunt of the cuts?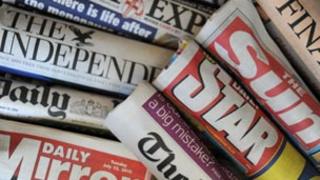 All of Thursday's newspapers agree that the government spending cuts are going to hurt - what they can't agree on is who will feel that pain the most.
"Axe falls on the poor", the Guardian says. Columnist Polly Toynbee thinks the low-paid, the sick and those dependent on benefits will be harmed.
The Daily Telegraph, in contrast, warns that it's the middle classes who will lose out - to the tune of £10,000.
It also thinks women will suffer disproportionately from the measures.
'Madhouse economics'
David Oakley, in the Financial Times, quotes one City trader who says that the cuts were "the most brutal since the shower scene in Psycho".
Nevertheless, he believes the financial world was "unmoved" because "the markets trade on surprise and there was no surprise" in what was said.
The Daily Mirror's Clinton Manning says they should be worried because the plans will "tear the economy apart".
"In short, it is the economics of the madhouse," he writes.
Banned aid?
Some of the papers, while sanguine, do believe George Osborne has done the right thing.
The Sun tries to be cautiously upbeat: "Every crisis is an opportunity."
The Daily Mail calls Wednesday "a historic day on the road to recovery", although it thinks it is "madness" to cut business funding but increase international aid.
The Daily Express agrees that Mr Osborne had to "clear up the mess left by Gordon Brown", but it also wants to see overseas aid take a hit.
Bloody cuts
There are cartoons aplenty relating to the Spending Review - the Times even has one as its main front page image.
It depicts George Osborne as a cartoon bad guy holding a huge bloodstained axe in one hand and a small sticking plaster in the other.
The Independent's cartoon contrasts the reaction of the UK and France to news of impending cuts.
In their respective kitchens, the Brit pours a cup of tea, while his French counterpart makes a Molotov cocktail.