Coroner praises 7/7 survivor who stayed behind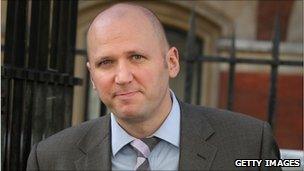 A coroner has praised a commuter caught up in the 7 July bombings who stayed behind to tend to the wounded.
Colin Pettet, of Hornchurch in Essex, broke down as he relived attempts to find a pulse on a passenger thrown from a carriage at Aldgate Tube station.
He described how he found the man lying face down on the tracks and comforted two other passengers in severe shock.
Coroner Lady Justice Hallett said they would always be grateful for his actions while others were evacuated.
Mr Pettet, who was himself injured, told the inquest: "There was a flash and an exceptionally loud bang, a noise, probably the loudest noise I've ever heard in my life.
"From that point on it went very dark, the train had come to a very sudden halt."
After getting out of the carriage wrecked by suicide bomber Shehzad Tanweer, he found three people by the tracks including a man with many of his clothes blown off.
"I tried to get a pulse on him but couldn't find a pulse in his neck or his hands or on his arms. He appeared dead," an emotional Mr Pettet recalled.
He also went to the aid of lawyer Thelma Stober, who lost her right leg in the 2005 blast.
"She was screaming to me that she was dying. She was in a lot of pain, her back was killing her," Mr Pettet said.
"She was getting cold so I put my jacket over her because I think she was going into shock.
"No emergency services arrived, there was no help coming down the platform."
As other passengers leaving the train streamed past to the safety of Aldgate station, Mr Pettet stayed, asking people if anyone had medical training.
It was 25 to 30 minutes after the explosion before firefighters started arriving in the tunnel, the hearing was told.
Another man who was helped by Mr Pettet was investment banker Philip Duckworth.
Mr Duckworth told the court how he had been standing so close to Tanweer that he was blinded by a fragment of one of the bomber's bones.
He described how he was thrown onto the tracks by the force of the blast and drifted in and out of consciousness.
He said: "I just remember some guys went past. I can't remember how many there were but there was a guy with a torch and I think they looked down and said, 'Oh no, this one's gone,' and then moved on.
"At that point I was like, 'no I'm not, hang on a second, I'm not gone'. That's when I forced myself on to my knees and got up."
Describing his injuries, he told the inquest: "I have lost my left eye, I've got a prosthetic eye in at the moment, which by all accounts looks very realistic - I'm pleased with that."
After Mr Duckworth completed his evidence, coroner Lady Justice Hallett told him: "You have reduced us to silence. It is an astonishing story.
"The idea that you could be so close to the bomb, be blown out of the carriage and still be here to tell your story is just amazing."
Mr Pettet was treated in hospital for cuts to his hand, smoke inhalation and damaged hearing.
Coroner Lady Justice Hallett told him: "I am sure that the survivors on the track will always be very grateful to you for your stopping and staying with them to offer them the comfort and assistance that you could."
Earlier the inquest heard from a policeman who became emotional as he described his attempts to save lives at Aldgate amid "absolute mayhem".
As the first officer in charge of the emergency response, Det Insp Ian Baker was asked whether he should have urged his superiors to shut down London's transport network.
Janine Sheff, representing four of the bereaved families, also asked the British Transport Police (BTP) detective whether he should have taken into account reports of bombs on other Tube trains.
Det Insp Baker replied: "It is very, very difficult to make an operational decision based on that when you have got absolute mayhem in front of you and people dying."
Lady Justice Hallett told the hearing she believed Ms Sheff's suggestion had "no foundation whatsoever".
Patrick Gibbs QC, counsel for BTP, asked the policeman whether he was more inclined to talk about the terrible things he had seen or keep them in.
Becoming emotional, the policeman replied: "I've just kept them."
On Wednesday, he told the inquest he feared there could have been a "dirty bomb" contaminated with radioactive material on the train.
Related Internet Links
The BBC is not responsible for the content of external sites.