Used car buyers still being conned by stolen forms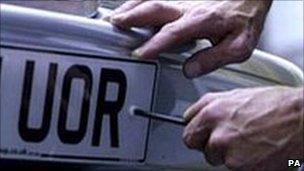 Second-hand car buyers are still being conned into paying thousands of pounds for stolen vehicles, a BBC investigation has found.
Criminals are using thousands of blank DVLA log books, stolen in 2006, to sell cloned cars on the private market.
This is despite new registration documents being introduced by the DVLA in August to stamp out the scam.
The DVLA says it continues to do everything it can to alert the public to the risk posed by these forms.
Car cloning is the vehicle equivalent of identity theft. Gangs copy the number plate and other identifying details of a legitimate car on to a similar, but stolen clone.
They also copy the genuine vehicle's log book - or V5C form - by using one of the thousands of blank DVLA (Driver and Vehicle Licensing Agency) documents that went missing some time in 2006.
But 5 live Investigates has spoken to buyers who continue to be conned even after the introduction of the new log books.
It is happening because cars already on the road will only receive the new documents when they are relicensed or declared to be off the road.
It is thought the old style V5C forms will not be completely obsolete until August 2012.
David Bloor is one of the motorists who have fallen victim to this scam despite the changes.
He recently paid £16,500 for a Volkswagen Tiguan he saw advertised on a second-hand car website.
Mr Bloor was presented with what appeared to be a genuine log book, which had all the correct watermarks.
The vehicle data checks he ran all came back clean.
But a few weeks later, after applying to the DVLA to re-register the car in his name, David received a visit from the police to tell him his car was cloned.
David has no way of reclaiming the money he lost and blames the DVLA for his loss.
"They need to be brought to task over this," he told 5 live Investigates.
"To wash their hands of it and do nothing is absolutely appalling."
Philip Swift, an insurance industry investigator at Claims Management & Adjusting Ltd, says despite the introduction of the new forms, cases are continuing to emerge.
"I don't accept that drip feeding the new forms into the system is going to have much effect on the crime," he told BBC 5 live.
"It again appears to be more about saving money than protecting the public because the DVLA have clearly accepted that their stolen registration documents have a value, are being used by criminals, and that the integrity of their document is undermined.
"Why, then, do they permit these documents to remain in circulation, to continue to have a value, and to be an ongoing problem for members of the public?"
However, 5 live Investigates has seen DVLA internal documents, which reveal the agency opted to save £4.5m by delaying changes to its database rather than take action immediately to make the missing log books obsolete sooner.
The replacement programme is understood to have cost about £5.5m, while used-car buyers have lost more than £13m to the scam over the last two years, which has prompted accusations that the agency failed to act soon enough.
"The DVLA had the opportunity to make those documents worthless from day one," said Mr Swift.
"The decision not to came at a cost, but it appears it was not a cost the DVLA were prepared to accept. Instead, they made a decision that the cost would fall on innocent members of the public."
David Evans, DVLA corporate affairs director, told the BBC: "The clear message to anyone considering buying a second-hand vehicle is that a registration certificate is not proof of ownership and is one piece of a complicated jigsaw."
"We recommend that buyers ask to see proof of ownership of a vehicle, such as a bill of sale, before handing over any money."
You can also listen again on the BBC iPlayer or by downloading the 5 live Investigates podcast.
Related Internet Links
The BBC is not responsible for the content of external sites.