Police cars to have national livery in savings plan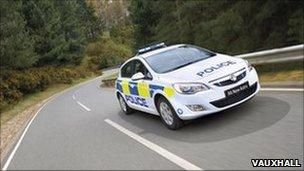 The UK's 54 police forces hope to save £3.4m every year through a new deal that will see all vehicles branded with a national livery.
Forces looking for a patrol car for beat officers will be restricted to buying from four manufacturers.
The deal includes all English, Welsh, Scottish and Northern Irish forces, the Civil Nuclear Constabulary and British Transport Police.
Currently the forces spend around £83m on 5,600 vehicles each year.
In a statement, David Horne, of the National Police Improvement Agency (NPIA), said the money saved was a significant amount.
He said: "This is the cost of an average force's entire fleet budget. So this is a significant saving but cost is just one part of the overall picture.
"Through collaboration, we are able to standardise how police vehicles are used across the UK, which means further efficiencies are possible in areas like training and mutual aid."
Beat officers seeking a new patrol car will be able to choose from "ready to drive" models that will need minimal or no modification.
They will be able to select only certain models of Ford, Vauxhall, Peugeot or Hyundai, while forces seeking a high-performance traffic vehicle - which police often use while on motorway patrol - will be able to choose from certain BMW, Audi or Volvo models.
Other manufacturers in the preferred suppliers' list include Jaguar, Iveco and VW should forces decide they need other types of vehicles including motorbikes, vans and armoured VIP saloons.
The NPIA said the single supply agreement meant most forces would save an average of £25,000 for each "procurement activity", while orders would be delivered more quickly.
The police service has also created a new national tyre purchase framework, saving an additional £3.1m.
The deals were struck as part of the NPIA's bid to find nearly £300m in non-IT related savings by 2013.
An average police patrol vehicle travels up to 15,000 miles (24,000km) a year and can cost a force around £22,000 to buy and maintain for a four-year period.
On Wednesday Chancellor George Osborne announced that police funding was being cut by 4% a year as part of the Spending Review.
Related Internet Links
The BBC is not responsible for the content of external sites.