Kelly wounds 'self-inflicted', says pathology report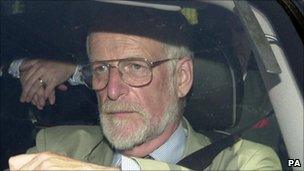 Previously secret evidence about the death of Iraq weapons expert Dr David Kelly suggests that he died as a result of a "self-inflicted injury".
The report backs up Lord Hutton's verdict that he committed suicide.
Two doctors who cast doubt on the case have come to opposing conclusions about whether their questions are answered.
Professor Julian Bion told BBC Radio 5 Live the newly published report "certainly satisfied" him that the cause of death given was the correct one. But former coroner Dr Michael Powers said many issues had still not been addressed.
The report was published on Friday, as ministers sought to end speculation over his death.
A group of doctors have been calling for the case to be reopened, arguing that the suicide verdict was unsafe.
Dr Kelly's body was found in woods close to his Oxfordshire home in 2003, after it was revealed he had provided the information for a BBC News story casting doubt on the government's claim that Iraq had weapons of mass destruction capable of being fired within 45 minutes.
Instead of a coroner's inquest, then Prime Minister Tony Blair asked Lord Hutton to conduct an investigation, which found Dr Kelly had died from blood loss after slashing his wrist with a knife.
Lord Hutton requested that the details of the post-mortem examination and toxicology tests be classified for 70 years - to protect the privacy of the Kelly family.
But the Ministry of Justice said it was now releasing the details "in the interests of maintaining public confidence" in Lord Hutton's conclusions.
"While I firmly believe that the publication of these documents is in the public interest, I am mindful that the contents may be distressing," Justice Secretary Ken Clarke said, urging people to respect the Kelly family's privacy.
In the post-mortem, Home Office pathologist Dr Nicholas Hunt noted that wounds to Dr Kelly's left wrist resulted in "the loss of a significant volume of blood".
They were "entirely consistent with having been inflicted with a bladed weapon" while "their orientation and arrangement... are typical of self-inflicted injury", he concluded.
Among the factors he believes indicated suicide, Dr Hunt said the removal of Dr Kelly's watch and spectacles are "features pointing towards this being an act of self-harm," as is the "relatively passive distribution of blood and... the lack of obvious signs of trampling of the undergrowth or damage to clothing".
Furthermore, there was also a "total lack of classical defence wounds against a sharp weapon attack".
The toxicology report by forensic scientist Alexander Allan showed a high concentration of paracetamol and dextropropoxyphene in Dr Kelly's blood. The two make up co-proxamol - a prescription-only drug for pain treatment.
Campaigners have questioned whether the painkillers in Dr Kelly's system were enough to cause death - and Dr Hunt says in his report that "the levels of paracetamol and dextropropoxyphene in the blood are not particularly high and may not ordinarily have caused death in their own right".
But he adds that dextropropoxyphene can cause fatal heart rhythm abnormalities in people with low blood pressure as a result of bleeding.
The toxicology report concluded Dr Kelly took a "considerable" overdose of the drug but he had died before all the paracetamol had been absorbed into his system.
There was "nothing new" in the post-mortem report, Dr Powers said, and issues such as the amount of blood at the scene and uncertainty over the number of pills Dr Kelly had taken had not been resolved.
"If he were only to have taken six to eight tablets, what does that say about his intent to take his own life?" he said. "I don't believe any of the evidence we have seen or heard to date can answer those questions."
However Prof Bion said he found the report "convincing."
In a statement, Lord Hutton said there had never been any secrecy about the post-mortem report as lawyers had had access to it during his inquiry.
A spokesman for the Kelly family said he hoped that the documents' release would end speculation about the scientist's death.
Related Internet Links
The BBC is not responsible for the content of external sites.