Pickles backs plan to merge Tory councils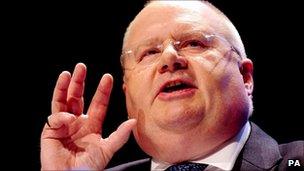 Communities Secretary Eric Pickles has said three Conservative councils who have agreed in principle to merge all their services are "leading the way".
He said others should follow London's Hammersmith and Fulham, Kensington and Chelsea, and Westminster.
The three councils admitted there would be "significant" staff reductions but said they could save up to £100m.
Unison, which represents 7,000 staff members, warned standards would fall as decision making became more removed.
Mr Pickles said: "These councils are leading the way in local government and voters will expect others to get on board and follow suit.
"This is exactly the sort of innovation that will help councils to protect hard-working families and the most vulnerable.
"By sharing back-office services, they'll be able to protect the front line - and even improve the choice and services that's on offer to local residents."
Under the proposal, each authority would retain its political identity with its own elected leaders and councillors.
Efforts are already under way to merge the three children's services departments, which cover education, but now the authorities are considering whether to go further.
The plans will be formally announced later and if they are adopted could create a local authority bigger than Glasgow or Leeds.
A series of working groups will be set up to look at ways of merging three main areas - environmental services, family services and corporate services.
The groups are due to report back by February next year and more detailed plans will then be put out to public consultation.
Hammersmith and Fulham leader Stephen Greenhalgh admitted there would be "significant reductions" in staff and the spending cuts meant jobs could not be safeguarded.
But he told BBC Radio 4's Today programme he gave an "absolute guarantee" that merging and sharing services would not compromise the political sovereignty of the three councils.
"There's a lot of bureaucracy involved with delivering local services. You often find that of the £3 we spend, £1 is spent deciding what to do with the other two," he said.
"This is about minimising that overhead, and we still have political sovereignty, still have the ability to choose how we spend the money locally."
He added the councils were not trying to create a "homogeneous blob" but were just being more efficient about the choice of services received.
In a joint statement, the councils' leaders said the initiative would soon become the norm for local authorities looking to keep costs down while delivering quality services.
Colin Barrow (Westminster), Stephen Greenhalgh (Hammersmith and Fulham) and Sir Merrick Cockell (Kensington and Chelsea) said that potentially sharing every service was a way to "reduce duplication and drive out needless cost".
But Unison's regional secretary for Greater London, Linda Perks, said: "Any mergers are bound to lead to significant job losses.
"This will add more London public sector employees to the dole queues and damage the capital's already fragile economy."
And the Unite union warned councils against rushing into "untested structures" despite the pressure from cuts.
Its national officer for local government, Peter Allenson, said: "Councils have to be close to the needs of their communities and the people who elect them and pay for them - and council workers need to know who is in charge.
"Super-sizing the delivery of services like this means local councillors become insignificant and have little influence on the services they provide.
"Voters will soon become disenfranchised and wonder what they are paying for."
There are other examples of pooled resources - South Oxfordshire and Vale of White Horse district councils share a chief executive for example - but not on this scale.
The Local Government Association said this was the first proposal with initial agreement to potentially share all services, not just back-office ones.
Related Internet Links
The BBC is not responsible for the content of external sites.