Newspaper review: Osborne levy on banks criticised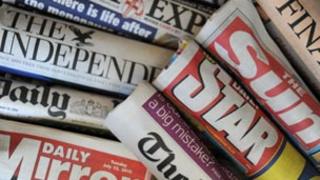 The banks have wriggled off the hook, says the Guardian, despite Chancellor George Osborne's vow to make them pay.
In introducing a "gentle" levy, he "appears to have swallowed whole" the banks' threats to move abroad if hit too hard, thinks the paper's Nils Pratley.
"The City barely shrugged yesterday" agrees the Independent, while shares in the banks "were all but unmoved".
The Financial Times concurs, feeling the levy is "not all that taxing" and indeed is "decidedly timid".
'Just a slogan'
The Times wants "quiet man" Iain Duncan Smith to "pump up the volume" about his plans for welfare reform.
It thinks the mooted universal credit could be "revolutionary" - in a good way - but "as yet, the idea remains little more than a slogan".
Meanwhile, the Daily Mail attacks plans to increase the overseas aid budget.
The coalition's refusal to seek savings everywhere else but not in international development is "the worst kind of politically-correct posturing", it feels.
Jail time
The Daily Telegraph is unhappy with Justice Secretary Ken Clarke's plans to send fewer people to prison, feeling it is "naive to think they will not carry on offending if they are dealt with leniently".
The paper says it "may be well-meaning, but it borders on the reckless".
The Daily Express is also yet to be convinced, recalling the old Tory policy of "prison works".
Now Mr Clarke has decided that often it doesn't, "Britain awaits the results with trepidation", it says.
Coming or going?
The latest in the Wayne Rooney saga is, at least according to the Sun, that a "mob" turned up outside the player's home in protest at his hoped-for move.
Police say 20 or 30 people did gather, but were moved on peacefully without any arrests being made.
The Daily Mirror, meanwhile, claims to have found out that Rooney doesn't want to leave Manchester United now after all.
Pundit Mark Lawrenson tells the paper this has been "one of the most shocking transfer sagas in football history".