Child contact vetting system set for major review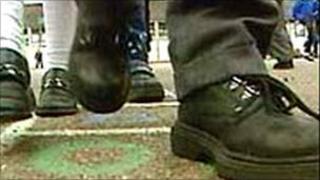 The vetting and barring system for those working with children is to undergo a radical re-examination, the Home Office has said.
The review will examine whether the scheme is the best way to protect children and vulnerable people and, if so, how many roles it should cover.
Critics have said the scheme, which was suspended in June, cast too wide a net.
A Barnardo's spokesman said it "would be nicer to believe" the scheme was not needed but this was "not true".
Launched in October 2009, critics said it cast too wide a net and risked poisoning the relationship between generations.
Home Office Minister Lynne Featherstone said: "While it is vital that we protect the vulnerable, this scheme as it stands is not a proportionate response.
'Presumption of safety'
"There should be a presumption that people wishing to work or volunteer with children and vulnerable adults are safe to do so unless it can be shown otherwise."
The review will consider the fundamental principles and objectives behind the scheme, including:
Evaluating the scope of the scheme
Assessing the most appropriate function, role and structures of any relevant safeguarding bodies and appropriate governance arrangements
Recommending what, if any, scheme is needed now
Taking into account how to raise awareness and understanding of risk, and responsibility for safeguarding in society more generally
The final recommendations for the scheme will be announced early in 2011.
Care Services Minister Paul Burstow said: "We have to strike the right balance in safeguarding vulnerable people.
"The risk of abuse can come from people close to victims not just from paid staff and volunteers. No-one can subcontract responsibility for protecting at risk people, we all have a part to play."
'Play rangers'
Children and Families Minister Tim Loughton said: "Any vetting system should not be a substitute for proper vigilance by individuals and society.
"At the moment the pendulum has swung too far and threatens to drive a wedge between children and well-meaning adults."
But Barnardo's chief executive Martin Narey said: "It might be nicer to believe that we need no such scheme, that somehow we can trust our instincts. Regrettably, that's simply not true."
But he admitted there was a "need for some adjustment in the margins to ensure the vetting and barring scheme does not interfere with informal arrangements between families".
Last month the think tank Civitas called for the scheme to be axed altogether.
It said the Vetting and Barring Scheme (VBS) risked combining with a broader culture of fear to "poison the relationship between the generations".
The organisation said problems included:
More than 12,000 innocent people erroneously being labelled as paedophiles, violent or criminals
Councils banning parents from playgrounds, saying only vetted "play rangers" would be allowed in
Parents running into difficulties when trying to share the responsibilities of the school run
The VBS system was launched in October last year in response to the murder of 10-year-olds Holly Wells and Jessica Chapman by school caretaker Ian Huntley in 2002.
Set up by the Independent Safeguarding Authority (ISA), it was designed to prevent unsuitable people working with children and vulnerable adults, with employers facing prosecution for breaches.
An independent review of the scheme took place after complaints that volunteers were being discouraged because the registration net was too wide.
As a result, ministers agreed to vet adults only if they saw the same group of children or vulnerable people once a week or more, rather than once a month as originally proposed.
About 9.5m people in England, Wales and Northern Ireland, were expected to have been required to register with the ISA under the old scheme. Scotland has been in the process of introducing its own scheme.