Grim milestone for UK couple held hostage in Somalia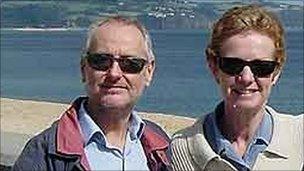 Saturday marks a grim anniversary for Paul and Rachel Chandler, a retired couple from Tunbridge Wells in Kent.
A whole year has now passed since they were seized off the Seychelles in the Indian Ocean by Somali pirates as they sailed westwards to Tanzania. They have since been taken to the Somali mainland where they continue to be held.
This week a London-based piracy analyst told the BBC: "At the anniversary of the captivity of Paul and Rachel Chandler it is to be hoped that those holding them can now show compassion and release them, as a sign of goodwill, and to encourage further international support for those most at need in Somalia."
In happier times, the Chandlers planned their dream retirement - sell up, buy a yacht and sail round the world.
Last year they sailed their yacht, the Lynn Rival, from Turkey down through the Suez Canal, southwards through the Red Sea and then swung far out to the east to avoid the Somali coast.
In April 2009 they reached the Seychelles, and after six months there they set sail westwards for Tanzania, far to the south of Somalia but still through an area where several ships had recently been attacked by pirates.
On the night of 23 October they activated their emergency beacon: their yacht was being attacked and boarded by Somali pirates, hundreds of miles from the Somali shore.
Over the next few days they were forced to sail at gunpoint towards the Somali port of Haradheere.
On 29 October a Royal Fleet Auxilliary supply ship, the Wave Knight, approached but its crew was unable to prevent them being transferred off their yacht and onto a much larger container vessel, the Kota Waja, which already held a number of captured merchant seamen.
The Chandlers were then taken ashore and deeper inland into Somalia. Separated at times, they have been allowed to make only occasional phone calls to their relatives in England, as well as rare appearances in videos where they are shown living in the thorn scrub bush.
In one of these broadcast in May this year Rachel Chandler vented her feelings about her captors.
She said: "We are just animals to them, we've been kept caged up like animals. They don't care about our feelings and our family and our lives and what they've taken. They don't care whose lives they ruin."
The Chandlers' plight is symptomatic of a wider problem throughout the western Indian Ocean.
In the last three years piracy has become a boom business with former fishermen arming themselves, then heading further and further out to sea in search of prey.
Western warships have had only limited success in deterring them, as observed by shipping lawyers in London.
Maritime lawyer Stephen Askins said: "The reality is that the pirates have shown themselves able to operate 1,200 or 1,300 miles from Somalia so in fact they are much closer to India than they are to Somalia itself.
"That's the message that is being put out to all the ships crossing north to south through the Indian Ocean - that nowhere is safe and you have to be alert and be ready to repel or try to avoid a piracy attack."
Paul and Rachel Chandler have now been held longer than anyone else taken by Somali pirates in recent memory. Both the Foreign Office and Somali leaders have called for their immediate release.