Paper review: Leaks reveal 'ugly and shocking' story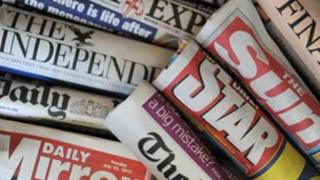 According to the Guardian, the story told by the mass of leaked US military documents is ugly and often shocking.
Under the headline "See no evil", the paper says the confidential field reports show the Americans failed to investigate hundreds of possible cases of abuse, torture, rape and even murder by Iraqi police and soldiers.
The Guardian says extracts from the original documents reveal the real toll of five years of carnage in Iraq, including more than 15,000 civilian deaths in previously unknown incidents.
'Unpopular' decisions
A poll for the Independent suggests 59% believe the spending cuts are unfair because they will hit the poorest.
That includes 34% who voted for the Conservatives last May.
Chief Secretary to the Treasury Danny Alexander tells the Daily Telegraph that "for a lot of people it's going to be very difficult indeed".
In the Daily Mail, David Cameron declares that "there's no doubt that we have done some things that will make us unpopular with some people".
Football deal
The papers are agog at Wayne Rooney's decision to sign a five-year contract at Manchester United just two days after he announced he wanted to leave.
The main picture in the Times shows a smiling United boss Sir Alex Ferguson with his arm around Rooney's shoulders.
"Reunited: football's feuding couple make up," says the headline.
The Sun and Daily Mirror say the England striker will earn a quarter-of-a-million pounds a week from his new deal, when bonuses are added in.
Stuck sub
The Daily Telegraph's main photo shows Britain's most advanced nuclear submarine stranded off the Isle of Skye where it ran aground on Friday.
HMS Astute can circumnavigate the world without resurfacing but cannot negotiate a sandbank, the paper says.
Matt's cartoon has two sailors looking at the stranded sub, one of them is saying: "I hope that's one of the vessels we're sharing with the French."
The Sun's headline, recalling a famous film, is "The shunt for Red October".