John Lennon 'would chuckle' over commemorative plaque
By Mario Cacciottolo
BBC News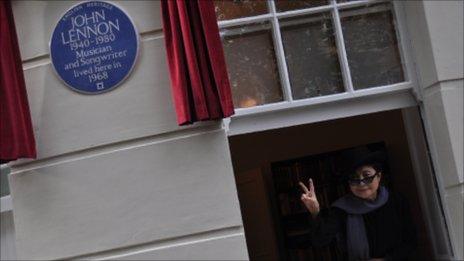 The irony of the occasion would surely not have been lost on John Lennon.
The site of the Beatle's infamous 1968 drugs bust, 34 Montagu Place in Marylebone, London, is now marked as a site of cultural importance, another important stopping-off point for any Beatles fan who wants to see all the places in Liverpool, London and elsewhere in the UK where the famous four truly became fab.
The building, whose basement flat has a rather remarkable amount of history attached, now sports a shiny blue plaque from English Heritage, proclaiming Lennon's residency there in 1968 with his partner Yoko Ono.
Its addition to the national collection of blue plaque heritage spots is also good timing, coming both in the year that Lennon would have turned 70 - his birthday was on 9 October - and just a few weeks ahead of the 30th anniversary of his murder on 8 December 1980.
Ms Ono unveiled the plaque herself on Saturday to a crowd of about 100 people, among whom was Rod Davis, the banjo player in Lennon's first band, The Quarrymen.
Formed in 1956, that group would eventually morph into The Beatles.
Mr Davis was keen to point out that while Lennon would have been pleased at the accolade, he surely have raised a smile at the plaque's unveiling, given that the police raid is the most notable aspect of his stay at this address.
"He would think it highly amusing that they've put up a plaque here, considering what happened here," Mr Davis smiles.
"If only they'd mentioned the drugs bust on the bottom of the plaque. Wherever he is, he would have a great chuckle about this one."
Mr Davis added that he would like to see more done to commemorate both the Beatles' and Lennon's association with London.
"Foreign tourists are often quite incredulous that more isn't made of the Beatles and Lennon over here."
During the controversial police raid, cannabis resin was uncovered by two intrepid sniffer dogs, called Yogi and Boo-Boo, hidden in a leather binocular case and a suitcase. The police report is now available in the National Archives.
But the bust, which led to Lennon's conviction and £150 fine - Ono was absolved, and miscarried the couple's baby shortly afterwards - was to cause Lennon trouble in subsequent years.
His conviction triggered a deportation order against him in the US in 1971. It was the beginning of a four-year battle to avoid being thrown out the country, which he eventually won.
The flat was also the setting for the famous nude photograph of John and Yoko, taken for the Two Virgins album cover. But the premises are worth a glance for many other reasons, too.
Although it is now firmly associated with Lennon, the flat was actually owned during the second half of the 1960s by his bandmate Ringo Starr.
After living there himself, Starr let it out various pop stars and friends, including fellow Beatle Paul McCartney.
He had a small studio installed and used that equipment to begin the creation of Eleanor Rigby and Tomorrow Never Knows.
He was eventually replaced by Jimi Hendrix, who wrote his classic song The Wind Cries Mary there. When Lennon moved in, The Beatles were recording The White Album.
And away from the music scene, American author William Burroughs recorded his experimental "Hello, yes, hello" tapes at this address.
For Saturday's ceremony, after words from Beatles historian Hunter Davies, Ms Ono, clad in a black trouser suit, spoke only briefly, saying how pleased she was that people from all over the world "would come to see this plaque, with love for John".
She then unveiled the plaque to whoops and cheers from the crowd.
Among those gathered, sporting a John Lennon jacket, was Pete Nash, 49, from East Ham, who is chairman of the British Beatles Fan Club.
He said the address would become one of the "top three Beatles sites in London" for fans, after Abbey Road studios and the site of the Apple Building in 3 Savile Row.
"This is now as important as many other sites in London," he added. "It's always good to commemorate John."
Historian Howard Spencer, of English Heritage, agreed, saying that Lennon was "without doubt one of the most outstanding popular musicians and composers of the 20th Century.
"English Heritage is delighted to honour him with a blue plaque, as a memorial and a celebration of his connection with 1960s London and with Montagu Square in particular."
As the crash barriers were packed away, and the crowds drifted away, John Crisp, 58, from Islington, London, arrived. Stuck in traffic, he had missed the unveiling - the second time he has had a close call with Lennon.
"I was a teenager in the early 1970s and went to a signing event for Yoko's book, Grapefruit, in Oxford Street," he explains.
"I gave John a cassette of my music and asked him to listen to it. He said 'Ta, wack,' which is a Liverpudlian way of saying 'Thanks, mate'. He turned round and asked an assistant to put it in a bag for him.
"Later, I was stood outside the bookshop, and John, still inside, saw me through the window. He beckoned towards me but I just froze, overawed. I couldn't move, and he got distracted, so I never found out what he wanted."
Does he regret not finding out what Lennon had to say? "Yeah," he grins somewhat ruefully. "If I had a time machine, I'd go back."
Related Internet Links
The BBC is not responsible for the content of external sites.