Russell Brand and Katy Perry get married in India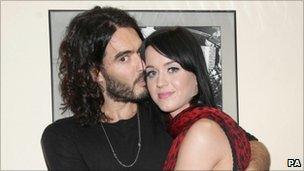 British comedian Russell Brand has married US singer Katy Perry in a private ceremony in northern India.
The ceremony, conducted by a Christian minister, took place at the Aman-e-Khas luxury resort outside the Ranthambhore tiger sanctuary.
Brand, 35, proposed to Perry, 25, in India outside the Taj Mahal last December.
The couple met at the MTV Video Music Awards in September 2009, where Brand was host.
A spokesman for the couple said the wedding service was carried out by a friend of the Perry family.
"The very private and spiritual ceremony, attended by the couple's closest family and friends, was performed by a Christian minister and long time friend of the Hudson [Perry] Family.
"The backdrop was the inspirational and majestic countryside of northern India," the spokesman said.
According to reports, 21 camels, elephants and horses from a nearby resort formed part of Brand's wedding procession.
The St Trinian's and Get Him to the Greek star was also accompanied by traditional dancers and musicians.
The National Park, which provided the backdrop for the wedding, is one of northern India's largest sanctuaries.
Guests - among them comedian David Baddiel - have been given tours as part of the nuptial celebrations.
The comedian's wedding gift to his wife is believed to be Machli, one of the Ranthambhore sanctuary's rare female tigers.
Sunday's reception is reportedly being held at the Taj Rambagh Palace Hotel, the former home of the Maharaja and Maharani of Jaipur.
The party is said to have an 'East meets West' theme and will feature performances by Indian classical dancers alongside P Diddy - real name Sean Combs.
In addition to stand-up comedy, Brand has enjoyed success as an actor in Hollywood and as the author of two best-selling memoirs.
Perry, whose first hit was I Kissed A Girl in 2008, released her latest album, Teenage Dream, earlier this year.
Last week the singer used social networking site Twitter to appeal for privacy while she tied the knot.
Related Internet Links
The BBC is not responsible for the content of external sites.