Newspaper review: Papers focus on leaked Iraq files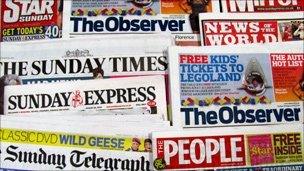 Many of the papers focus on the release of thousands of secret US files on the conflict in Iraq.
Writing in the paper, Robert Fisk says the revelations show that America has been "caught out telling the lies that we always knew they told".
The paper says London councils have revealed they are preparing for a mass exodus of low-income families from the capital because of benefit cuts.
The paper reveals that generous terms are being offered to those who take voluntary redundancy as part of cuts.
The paper says the move is part of measures to help tackle the deficit.
The paper says the Queen will net up to £38m a year as the seabed off the UK is owned by the Crown Estate.
And contrary to the government's line, a narrow majority - 45% against 42% - believe the measures are unfair.
The paper says Professor Christopher Pissarides warns they threaten to send the jobless total spiralling.
Related Internet Links
The BBC is not responsible for the content of external sites.