Police call for more powers to tackle metal thefts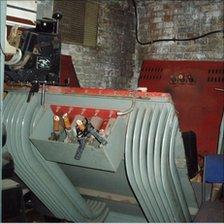 British Transport Police are calling for tougher powers to tackle the growing problem of metal theft.
There have been more than 5,000 such thefts from the railways and the gas and electricity networks this year.
Officers have told BBC News the rising price for refined copper means they expect the problem to get worse.
They want the power to shut suspected rogue scrap metal dealers on the spot in the same way they can close pubs, with the decision reviewed by a court.
The last two years have seen the price of refined copper more than double.
At the end of 2008 it was selling it at a low of less than £2,000 a tonne, but by earlier this month it had reached more than £5,000.
Police say the levels of theft have mirrored the rise and fall in prices, and with the value of scrap expected to continue to rise into next year they fear the problem will become even more acute.
Traditionally, the thieves have stolen the copper cable used in railway signalling, as well as the metal cable used in electricity sub-stations.
But as prices have risen, memorial plaques, statues and even catalytic converters have become targets.
Tony Glover, spokesman for the Energy Networks Association which represents electricity infrastructure companies in the UK, says the resale value of what is stolen is often minimal.
"It is pathetic, quite frankly. As a crime it is sometimes as little as £5, £10, £20, never more than £100 worth in terms of the value of the copper," he said.
"But its impact is enormous - it's almost like an act of vandalism. Some of our equipment is oil-insulated and a £5 brass valve - that's all they stole - resulted in 30,000 litres of oil coming out of some equipment.
"Luckily it was contained but had we not, it could have caused accidents, got into the water table, had an impact on wildlife. It really is a huge problem."
Supt Paul Brogden, from British Transport Police (BTP), says the thefts have the capacity to cause chaos to commuters.
He said: "It's a wide variety. Specific to the rail industry it's signalling, overhead cable, and essentially a small amount - say a couple of metres - it can put a whole rail infrastructure at risk in terms of closure of the network, clearly causing misery to thousands of commuters, and we've had incidents of that recently."
BTP say the problem is one of the biggest threats that they face after terrorism, but they are working with outdated legislation. At the moment stolen metal, in effect, is laundered.
It is taken to an unscrupulous scrap dealer who does not check too closely where it has come from, or who the person bringing it in is.
From there it is sold to legitimate dealers who have no idea they are buying stolen metal.
Now police want tougher powers to clamp down on the problem.
Police want to see CCTV brought in to record who brings in the scrap metal, with the seller having to provide a photo ID to prove who they are.
They also want powers to close down suspected rogue dealers on the spot, and they want metal users to consider embossing their metal to make it less attractive to steal.
The British Metals Recycling Association, which represents the scrap metal industry, says it would welcome some of the moves, such as the introduction of CCTV.
But it says its main concern is to ensure that the police and Environment Agency, which licenses scrap dealers, have the resources to enforce any new rules.
Otherwise they say they fear the good dealers will be undercut by unlicensed and illegal operators.
Related Internet Links
The BBC is not responsible for the content of external sites.