Newspaper review: Papers continue to consider cuts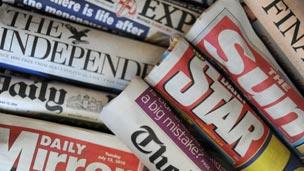 Many of the papers consider the further implications of the cuts announced in the government's spending review.
It says the £3.1bn could have kept the Royal Navy's doomed Harrier fleet in the air for another 20 years.
For most papers, it is the cuts to education which draw most attention.
The paper is referring cuts to school building programmes, and some schools in better-off areas seeing their funding cut to pay for the Liberal Democrats' pupil premium policy.
Wikileaks finds itself at the heart of its own controversy.
The organisation has made hundreds of thousands of secret documents about US actions in Afghanistan and Iraq available on the internet.
Mr Assange told the paper these were poisonous and false rumours.
The paper says a simplified pension system will see everyone receive the same amount - about £140 a week.
It notes that the figure is far more than at present.
Related Internet Links
The BBC is not responsible for the content of external sites.