Newspaper review: Papers continue to consider cuts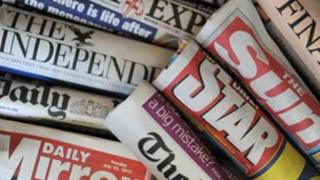 Many of the papers consider the further implications of the cuts announced in the government's spending review.
The Financial Times says Charities Commission head Dame Suzi Leather has accused David Cameron of pulling the rug from under his own "Big Society" by undermining the ability to help each other.
The Daily Express examines the legacy of protecting the foreign aid budget.
It says the £3.1bn could have kept the Royal Navy's doomed Harrier fleet in the air for another 20 years.
School budgets
For most papers, it is the cuts to education which draw most attention.
The Daily Mail says school cuts will hit the middle classes twice.
The paper is referring cuts to school building programmes, and some schools in better-off areas seeing their funding cut to pay for the Liberal Democrats' pupil premium policy.
The Daily Telegraph says ministers struggled for months to find a way to meet the cost of the £2.5bn scheme to help children from low-income families.
Leak claims
Wikileaks finds itself at the heart of its own controversy.
The organisation has made hundreds of thousands of secret documents about US actions in Afghanistan and Iraq available on the internet.
The Independent highlights concerns of some former members of the group who have accused founder Julian Assange of concentrating too much on these wars at the expense of other exposes.
Mr Assange told the paper these were poisonous and false rumours.
Same amount
The Daily Mail reports that in the biggest shake-up of the state pension system since its inception, there will be a huge boost for stay-at-home mums and married couples.
The paper says a simplified pension system will see everyone receive the same amount - about £140 a week.
It notes that the figure is far more than at present.
The Sun says the changes would end a system that traps millions of pensioners in poverty.