Charity warning on benefit change for single parents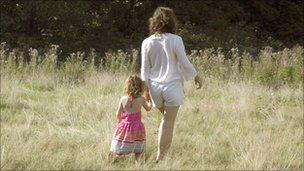 Unemployed single parents are being "set up to fail" by changes compelling them to seek work when their youngest child turns seven, campaigners say.
Parents in England, Scotland and Wales are being moved from Income Support to Jobseeker's Allowance under a switch initiated by the previous government.
The government estimates that the move will lift between 11,000 and 15,000 children out of poverty.
But the charity Gingerbread says up to 111,000 families risk losing benefits.
It fears many single parents will not be able to afford extra childcare costs and will struggle to find flexible part-time jobs in the current economic climate.
While Jobseeker's Allowance pays the same amount as Income Support - £65.45 a week - parents must show they have applied for jobs in order to claim it and be available for a minimum of 16 hours of work a week during school hours.
Up until now, lone parents with children aged between seven and nine were eligible for Income Support.
Those who are disabled or have children who have disabilities will be unaffected by the changes.
The Department of Work and Pensions said lone parents would be entitled to range of support including training opportunities, job application advice and other financial grants to help them return to work.
Work and Pensions Minister Maria Miller said: "We know that work is the best route out of poverty. This is why lone parents with younger children will now be able to have access to help and support through Jobcentre Plus."
The changes come after the coalition announced welfare benefits for the unemployed and low paid could be brought together under a new universal credit system to "make work pay".
But Gingerbread's chief executive Fiona Weir said the proposed reforms, which will ensure the unemployed will be able to retain some benefits after they find a job, are not going to be implemented in full for two parliaments.
"The coalition government says it wants to make work pay and to support single parents into work, but the reality is that today thousands of single parents are being set up to fail," she said.
"(The) government needs to act fast to improve availability of jobs with flexible working hours, improve the job-search support provided from day one of a claim, and increase access to childcare.
"Gingerbread welcomes the aim of new welfare reform proposals to make work pay, but the timescale for their implementation is too long for the single parents affected by today's change."
Speaking on BBC Radio 4's Today programme, Ms Weir said: "The biggest anomaly in system at moment is that shorter hour jobs just don't pay for single parents and that is one of the changes that could make most difference."
She added: "Most single parents do want to work and most already are in work. The system the government has inherited, however, isn't working very effectively and if the government wants to get the lone parent employment rate up they are going to have to make some urgent changes...
"The need for high quality support from Jobcentre Plus advisors is absolutely necessary and we have not yet clear received assurances that specialist support is going to be in place into the future."
Gingerbread says that figures suggest more than 20% of children whose single parent is in full-time work still fall below the poverty line.
The changes comes after Gingerbread said single parents will be hit hard by reductions in help with childcare costs and a freeze on working tax credit in the government's Spending Review.
Single parents have been sending the BBC their thoughts on this story. Here is a selection of their comments:
I'm a single parent and I lost my job in May this year. I have been in full time employment all my life up until now. My one-year-old son has just started secondary school and yes, I believe more people should be in work, but there aren't any jobs to employ us. I have been on Jobseeker's Allowance since May and I have applied for nearly every job available. Matt, Cirencester, Gloucestershire
I'm over-qualified and over-skilled for the lower-paid jobs but not specifically skilled enough for the more demanding roles. The nature of parenting has meant that my previous paid experience has mostly consisted of poorly paid, undemanding jobs that fit in with the family but have not helped me to progress. Research shows this is typical of mothers' experiences. So now I'm working for nothing in the hope that something will turn up. The government is so out-of-touch with the reality of the bottom 25% of the population and it' i in absolutely no position to be making policy for them. Karen S, London
I have been a single mum for 12 years. I was in a violent relationship and lived in a women's aid hostel for six months when I left my child's dad, and I've had a hard time since then. However, for the sake of my child I got a job and put her in nursery. I don't go out, don't drink or smoke. The argument that single parents can't work offends me, and I find that having no money is degrading. Working is a matter of dignity. Karen, Ayrshire
I am a single mum and I have spent the last few years working part time, studying for a degree and bringing up my daughter on my own. Although I am determined to get a place on a teaching course next year, I was also actively looking for a full-time post when my studies finished earlier this year. Unfortunately, with no family and no support from my daughter's father, I was forced to pull out of a wonderful job opportunity a few weeks ago because I could not find any reliable, financially reasonable and available childcare for weekend work in the area. It is all very nice to say that lone parents will have to prove they are looking for work but I cannot think how they will be successful if the facilities are not there to support them. Rebecca Lambert, Cornwall
I am a working single parent and frankly I get fed up with the sob stories of lone parents having a tough time and needing to be at home. Yes it's hard work but you give your kids a much better start in life and you're a better role model if you set the standards by working yourself. Karen, Chessington
Related Internet Links
The BBC is not responsible for the content of external sites.