Child onion pickers highlights exploitation problem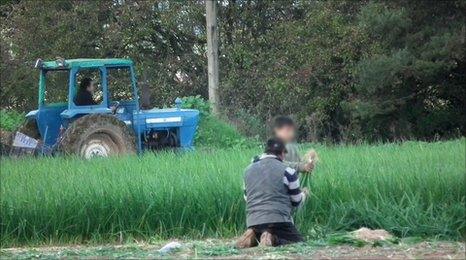 The discovery of Romanian girls and boys picking spring onions in a field in Worcestershire highlights the problem of child labour exploitation and trafficking in the UK, campaigners have said.
The seven children, aged between nine and 16, were taken into care after being found working with a group of adults in near freezing conditions on Wednesday.
According to the the Gangmasters Licensing Authority (GLA), which attended the scene with West Mercia Police, the problem was the first it had come across in the farming and food industry sectors it has overseen since 2006, although there had been rumours of incidents.
More of them were found to be in the UK for work purposes than any other reason, with figures showing 97 children brought in for "labour exploitation".
Christine Beddoe, Ecpat UK director, said the children were commonly involved in restaurant and building site labour but also forced to work as domestic servants and on cannabis farms.
Referring to the Worcestershire case, Ms Beddoe said: "If children are found in this kind of situation it has to be considered a form of child labour exploitation and trafficking.
"There has been anecdotal evidence of children being exploited in this way, however this is the first time it has been identified."
The charity, which is calling for greater co-operation between government, police and local authorities and for the UK to sign up to a new EU directive on trafficking, said it was difficult to gather accurate figures, with total numbers of children trafficked thought to be "far higher" than the official data.
"Some of these children are also forced into criminal activity such as cannabis cultivation, and sadly some are also sexually abused," said helpline head John Cameron.
"Many will have been made to travel for days, hidden in the back of a lorry, without proper food or toilets. They have often been threatened by their traffickers, or subjected to violence and intimidation."
The Gangmasters Licensing Authority was set up in 2006 to combat exploitation of workers in agriculture, horticulture and food processing plants, by overseeing the people who supply much of the labour.
As long ago as 1998, concerns over the exploitation of children by unscrupulous gangmasters had been raised in a parliamentary debate on the Employment of Children Bill.
But GLA spokesman Tim Carter said while it had heard rumours of foreign children working in the West Midlands and another part of the country, there was no "hard evidence" until last Wednesday.
According to the GLA, the whole group of 50 Romanians found working on the site in Malvern Hills last Wednesday were thought to have been exploited by an unlicensed gangmaster it was seeking.
Some of the children were with their parents, and some were working alone. Sandwell Borough Council said a police protection order was in place for 72 hours, but the children were now back in the care of their parents.
GLA chairman Paul Whitehouse told the BBC: "We discovered the children working, some of them with their parents but others without and in conditions which, for the adults alone, were appalling.
"No proper clothing, no water, no appropriate lavatory facilities and so on. This was a very clear case of exploitation."
Related Internet Links
The BBC is not responsible for the content of external sites.