7/7 Tube driver raised alarm on own mobile phone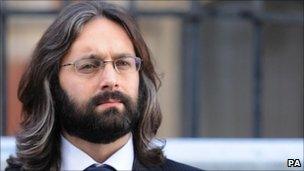 A Tube driver whose train was blown up by one of the 7 July bombers raised the alarm using his mobile phone as his radio was not working.
Timothy Batkin said he had checked with passengers on the Aldgate train if they had a mobile phone signal.
He told the inquest into the 2005 atrocities that the cries for help still made his "blood run cold".
Station supervisor Celia Harrison said there were no trained first aiders working on the day of the bombings.
Mr Batkin had only been working as a London Underground driver for about a year before suicide bomber Shehzad Tanweer detonated his bomb on an eastbound circle line train, killing seven, near Aldgate station.
He said he felt a shockwave and the train came to a sudden halt as a passenger alarm was pulled.
When he tried to make a mayday call to his line controller, he found his radio was not working and he did not think to use a second tunnel telephone.
He eventually raised the alarm by calling a colleague at Edgware Road using his own mobile phone before helping to evacuate up to 500 passengers.
Speaking at the Royal Courts of Justice, he said: "The passengers on the train, I could hear crying for help. It was a chilling, haunting cry for help.
"Something that still makes my blood run cold when I think about hearing it."
The inquest heard Mr Batkin touched together two copper wires running along the Tube tunnel wall to shut off the power so that passengers could walk to Aldgate station safely.
The wires could also be attached to a telephone carried in every driver's cab and used to contact the line controller, but he did not do this.
Mr Batkin said he had not been trained in first aid or what kind of information to give to senior colleagues in a suspected bombing or similar emergency.
He said he first realised it had been an explosion when he saw passengers who had made their way to the front of the train.
"When they reached me I could see their faces were blackened with soot and dirt and bloodied," he said. "And their clothes were torn and shredded."
Celia Harrison, a senior member of staff at Aldgate station, said she suspected an explosion had taken place as soon as she saw smoke at about 0850 BST.
She said she did not initially share her thoughts with the network control centre because she did not want to "panic the situation".
When asked to recall the situation 20 minutes later, she said there were no paramedics on the track.
The inquest was told there was a small first aid box in the station office but this was mainly for staff who had hurt themselves.
Mrs Harrison said although there was a "legal requirement" to have a certain proportion of first aiders to staff, none were on duty on 7 July.
She added she did not send anyone down to the platform because of "health and safety", but several colleagues went anyway.
A survivor told the inquest the only people she saw on the tracks were two London Underground workers, and she could not understand why firefighters were standing around at the station.
Lawyer Melanie O'Dell said: "We asked: 'Why aren't you going down there? There are people injured and dying down there'.
"Eventually one of them answered. He said: 'Oh, there may be a secondary device down there. There may be a second bomb'."
"At the time I wondered and I still wonder, how long do you wait? When do you decide it is safe if there is no-one down there?" she added.
The inquest heard from another lawyer, who had been working on the London 2012 Olympic bid, about how she was blown from the Tube carriage.
Thelma Stober, who lost part of her leg and suffered hearing damage in the blast, said she was only heading into work because the city had won the Games the previous day.
Weeping throughout her testimony at the inquest, she said: "I thought of my son who was seven years old and, silly enough, I thought I wanted to continue my work on the Olympics."
She told the inquest that as she lay on the tracks, she saw people coming towards the train.
"I put my hand up saying, 'help me, help me, I don't want to die'," she said.
Mrs Stober, a senior member of the London Development Agency (LDA), the mayor's chief regeneration agency, recalled lifting someone's hand from her head but not turning around to help him.
"He was lying there not moving. I assumed he was dead. But I could have held his hand and I didn't," she said.
Counsel to the inquest Hugo Keith QC told her there was nothing she could have done for the man.
Related Internet Links
The BBC is not responsible for the content of external sites.