Poppy stamps to help raise funds for Forces' memorial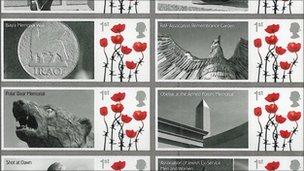 A collection of Remembrance Sunday stamps is being issued to raise money for the National Memorial Arboretum.
Each of the 10 stamps is decorated with poppies and an image of the Armed Force Memorial at the Arboretum.
It is hoped that money raised from their sale will fund a Veterans' Pavilion for servicemen and women who visit the site in Staffordshire.
The Armed Forces Memorial records the names of some 16,000 service personnel who have died on duty since 1945.
It is includes those killed in action and in terrorist attacks.
The 10 First Class stamps each feature a different element of the Arboretum, including the Basra Memorial Wall, the RAF Association Remembrance Garden and the Polish Armed Forces Memorial.
Royal Mail spokesman Philip Parker said: "We hope this special commemorative sheet is a particularly fitting tribute to those who have given their lives and that the proceeds raised will help support the Arboretum in its work to provide a national centre of excellence."
Maj Gen Patrick Cordingley, chairman of the site's appeal group, said: "The Arboretum has become a place in which the nation comes to remember and pays tribute to our Armed Forces.
"However, we must better honour our heroes and all they stand for by ensuring that we provide the buildings and facilities for the ever-increasing number of visitors.
"We are delighted that the funds raised through this wonderful Royal Mail initiative will help us achieve this."
The stamps will be available from 28 October at post offices, by mail order and at the National Memorial Arboretum. They will cost £13.50, of which £9.71 will be donated to the Arboretum Appeal.
Related Internet Links
The BBC is not responsible for the content of external sites.