Spending Review: Police 'not ready for budget cuts'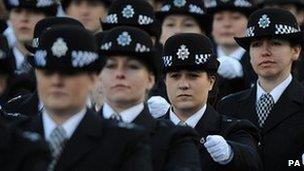 A police watchdog says it has "real concern" whether police authorities can manage cuts in the Spending Review.
HM Inspectorate of Constabulary (HMIC) said less than one in five of the bodies it examined were ready to help forces cut effectively.
The Home Office will cut police funding by 20% over four years, with chief constables warning of job losses.
The government also wants to scrap the authorities by 2012 and replace them with directly-elected commissioners.
Police authorities comprise local councillors, magistrates and independent members and oversee the 43 main police forces in England and Wales. Chief constables report to the authority but also answer to the home secretary.
The government is pressing ahead with its plan for elected police and crime commissioners and will also replace authorities with "police and crime panels".
But at the same time, forces must find spending cuts of 4% a year for four years. Policing budgets in Scotland and Northern Ireland will be set by the devolved administrations.
The HMIC said that police authorities would be overseeing two years of those cuts before handing over to commissioners.
But of 22 inspected, only four were found to have put in place long-term strategies capable of managing cuts and ensuring "value for money".
"The reality remains that few authorities are well positioned, or well prepared, to do what is needed to ensure smart direction and value for money," said the report.
"There is uncertainty as to whether police authorities will be able to meet the combined challenges of making tough decisions on spending reductions, while at the same time preparing for the smooth handover to the new governance arrangements.
"There is a real concern that police authorities will not find alternative approaches that offer better value for money and they will not be able to protect the public-facing policing services that the public rely upon 24/7.
"We hope, in the interest of the public, this will not be the case."
The report said that leading authorities like Gwent, Hertfordshire, West Mercia and Surrey operated like professional corporate boards. That meant they set a careful and clear strategy - but stayed out of the chief constable's operational decisions.
Rob Garnham, chairman of the Association of Police Authorities, said: "We recognise that along with the rest of the public sector we face significant financial challenges.
"Inevitably any changes to the system of policing governance will put additional strain on our resources. Police authorities are ready to deal with the difficult financial environment, demonstrated by our good record in making efficiency savings."
Related Internet Links
The BBC is not responsible for the content of external sites.