Ken Clarke considers reform of no-win, no-fee cases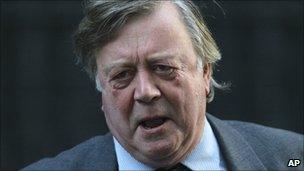 Lawyers in England and Wales may in the future get a cut of a claimant's damages for the first time, Justice Secretary Ken Clarke has told the BBC.
He said the government favours a move towards US-style payments to lawyers bringing personal injury claims.
Lawyers are currently paid on a no-win, no-fee basis, but can double their fees in cases they win, which has led to a huge increase in costs.
Under the new system, some costs would be recovered out of damages awarded.
It has always been seen as wrong in principle for lawyers to have a share in their clients' winnings.
If a court decides that someone injured in an accident needs £100,000 for their medical care, why should they have to make do with £75,000 while their lawyer gets the rest?
So when legal aid was abolished for personal injury claims, the government decided that lawyers should be paid on a no-win, no-fee basis.
But to make that work, lawyers were allowed to double their fees in the cases they won.
And that money has to be paid by defendants, who may be large public bodies such as the NHS or small companies who cannot afford to defend themselves against hopeless claims.
Mr Clarke has been critical of the system. It has led to a huge increase in cost.
He said: "You should not have a situation where, regardless of however frivolous the claim is, the sensible thing for the defendant to do is to settle, get out, before the legal costs start running up.
"A very experienced judge, Sir Rupert Jackson, has come up with some very good recommendations which I find, and the government finds, very attractive.
"But they will involve perhaps moving toward the US system whereby some of the costs are recovered out of the damages which are awarded."
Personal injury lawyers will not be very happy. They prefer the present system where the person responsible for an accident pays all the legal costs.
But of course Mr Clarke is looking for ways to save money.
Law in Action is on BBC Radio 4 at 1600 BST on Tuesday 26 October.