Can i crack the newspaper market?
By Torin Douglas
Media Correspondent, BBC News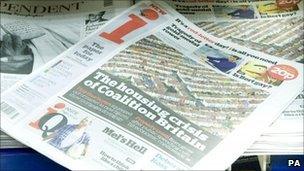 These are tough times for newspapers. They are losing readers and advertising to the internet and desperately trying to find solutions that will save their businesses in the longterm.
Rupert Murdoch thinks the answer is to charge for his papers' content online, putting The Times, the Sunday Times and, most recently, the News of the World behind paywalls.
The Independent, by contrast, wants to woo readers back to printed newspapers - and i is designed to do just that.
It is a reversioning of the Independent's existing content, aimed at a new audience - "lapsed readers of quality papers", or those wanting "a comprehensive digest of news and comment".
i is being sold alongside the Independent, which itself has been redesigned. Some experts, including Professor Roy Greenslade and former Sun editor Kelvin MacKenzie think there is a danger that some readers may forsake the £1 Independent for the 20p digest.
The Independent's editor in chief, Simon Kelner, does not believe so, saying the two papers look very different.
So how do they compare? And does i really combine "intelligence with brevity" and "depth with speed of reading", as its publishers claim?
The 56-page, brightly-coloured i has the look and feel of Metro, the national free newspaper which claims to have got a new generation reading newspapers.
But its content is a good deal weightier, not least in the columnists borrowed from the Independent - Deborah Ross, Johann Hari and chief sports writer James Lawton, who gets a full page in i.
Indeed, sports readers may well be happy to take i instead of the Independent - the seven pages carry most of the best stuff from the original paper's 10 sports pages.
But readers who care about politics and the arts are less likely to do so, with no Steve Richards column in "i" and far fewer "views" and reviews.
The first edition of the redesigned Independent looks very grey, with a black and white front-page photo that looks almost like a line drawing. This is deliberate, one presumes, to distinguish itself from the brightly coloured i front page.
Furthermore, the Independent's front page splash, a weighty despatch from Middle East correspondent Robert Fitch on the "flight of Christians" from the region, only appears in i as a single paragraph, in the "day at a glance" News Matrix.
Inside, the Independent perseveres with monochrome pictures, by and large, except in its Viewspaper section, and this sombre look certainly re-establishes more of the gravitas for which it was once famous.
Whether it will attract readers who are not comparing it with its sassy new sibling is another matter.
And this may be a problem.
Have the Independent team concentrated too much on keeping their two titles separate - so i does not cannibalise the Independent - instead of appealing directly to their own distinct readerships?
Does the Independent now look more or less attractive compared with The Times or the Guardian? And will people really pay 20p for i when they can get Metro free?
Of course, some will call any launch of a new national newspaper foolhardy, and under its previous owners the Independent would never have made the investment.
It can do so now because it was bought last year by Britain's newest media tycoon, the Russian entrepreneur Alexander Lebedev, a great believer in newspapers. He also owns 75% of London's Evening Standard, in partnership with Associated Newspapers, publishers of the Daily Mail and the free Metro.
A year ago, Lebedev and his son Evgeny - who chairs the Independent board - turned London's Evening Standard into a free paper.
That is now said to be heading for a profit, having been loss-making for years, and in editorial terms the paper's quality remains high.
It was widely thought that they might turn the Independent into a free paper and they did consider this, but the logistics of printing and delivery in a city such as London are very different from the requirements of a national newspaper.
Instead, they have launched i, in an attempt to make more revenue out of the existing Independent content.
But if it does not work - or works too well and takes sales from the mothership - some observers believe the idea of a free national newspaper may still be on the cards.
Related Internet Links
The BBC is not responsible for the content of external sites.