Churches accuse Osborne of benefit fraud 'exaggeration'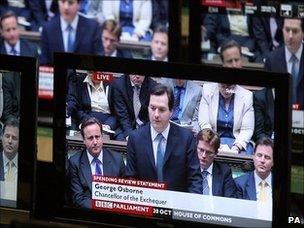 Three of Britain's churches have accused Chancellor George Osborne of exaggerating the scale of benefit fraud in last week's spending review speech.
Mr Osborne told MPs £5bn was unlawfully claimed in welfare payments every year.
But an alliance of three UK churches has pointed out that the government's own fraud figures are far lower.
The Treasury said the chancellor had made it clear on other occasions that his policy related to both fraud and error.
"We have made this clear in interviews around the subject and in the departmental press release," said a statement.
A government report issued last week said just £1.6bn of wrongful benefit and tax credit over-payments were due to fraud. The rest was attributed to error.
The figure in the report was based on both welfare benefits administered by the Department for Work and Pensions (DWP) and tax credits, which are overseen by HM Revenue and Customs (HMRC).
The Methodist and United Reformed Churches, and the Baptist Union, said the £5bn figure Mr Osborne quoted in his spending review speech wrongly depicted the poorest and most vulnerable in society as thieves.
President of the Methodist Conference, Alison Tomlin, said it was a question of fairness.
"Exaggerating benefit fraud points the finger of blame at the poor" she said.
"Let us be clear this recession was not caused by the poor, those on benefits, or even benefit cheats."
The report published by the DWP this month, entitled Tackling Fraud and Error in the Benefits and Tax Credits Systems, used figures which showed that, overall, £5.2bn is lost due to fraud and error every year.
However, those figures are then broken down again.
They show that around a third of welfare benefit over-payments, amounting to £1bn, are due to recipients committing fraud, with the remaining £2.2bn being due to genuine error on the part of officials or recipients.
There are more than £2bn worth of over-payments annually in tax credits, but the DWP report stated that most of that - 78% - was also due to error.
Overall, say the churches, the government's own figures show that welfare fraud accounts for only £1.6bn. They questioned why the chancellor used an incorrect figure when laying out his spending review in the House of Commons.
The Revd Graham Sparks, who is head of faith and unity at the Baptist Union of Great Britain, said there was already wide concern over the cuts in spending.
"This misuse of figures to exaggerate the scale of benefit fraud only adds to the sense of injustice," he said.
Related Internet Links
The BBC is not responsible for the content of external sites.