7/7 inquest hears transport police held back Tube staff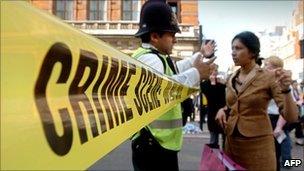 Tube workers were stopped from going to the tracks at Liverpool Street Station after a bomb tore apart a train on 7 July 2005, a station manager has said.
Darren Glazer said British Transport Police (BTP) forbade London Underground staff from going to the Aldgate train.
The suicide bomb on the Circle Line train was one of four co-ordinated attacks on London's transport network.
The inquests into the 2005 attacks has heard Aldgate Station staff ignored safety concerns to help the injured.
The Liverpool Street station manager told the inquests of the 52 people killed by the bombers he was stopped by Det Ch Insp Al Lawson, the then silver control for the BTP, and that nobody was sent to the track for at least 25 minutes.
He said: "There was some smoke coming out from the direction of Aldgate through the tunnel into our platforms."
He added: "Our intention was to send staff on to the track and investigate what had happened...
"I couldn't allow my staff to do what I wanted them to do because I was stopped by Det Ch Insp Lawson because of the possibility of secondary devices."
But Olanayi Falayi, the station supervisor for Aldgate Station, was commended by the coroner, Lady Justice Hallett, after he said he went down to the tunnel despite the safety concerns.
He said: "Police officers were saying we didn't know the situation down there, that it would be dangerous to go. But (my colleague) and I decided to go anyway."
He said they found a victim who had a hole in their side and took the person upstairs. While they were in the tunnel, they helped passengers to find a safe way out.
Mr Falayi said when the workers entered the train, they found one victim who had been pinned to the carriage by an upright pole.
He said: ""We asked her her name and she said she was Trisha. She calmed down after a while.
"We told her to stop moving and that paramedics were on their way."
The woman was later discovered to be Carrie Taylor, 24, from Billericay, Essex. She was one of the seven people who was killed by the bomb.
Lady Hallett told Mr Falayi: "You were very brave and I'm sure the efforts you made, despite the risk to yourself, to save and help people there at that dreadful scene will provide some comfort to those who have either lost people or who themselves were dreadfully injured."
She also commended Metropolitan line operator Stephen Eldridge, who spent half an hour helping those on the train.
He said he had been waiting to pick up a train when he heard a bang.
"I thought at the time it sounded like a bomb to me. There was some movement in the air when it happened.
"There were little pieces dropping through the air as well, off the roof. (A colleague) and I went down on to platform two and noticed that the emergency lighting seemed to have gone down as well."
As he walked towards the front carriage, he said: "There were some people thumping on the glass (of the doors of the carriages) saying 'Let me out'."
But he said the smoke and dust caused by the wreckage meant it was difficult to see.
He used paddles to prise open a door of one carriage and then helped people to leave.
He said: "I was looking down the tunnel and kept thinking the paramedics must be here soon. I could hear a female screaming in pain but couldn't locate her. I felt helpless."
The inquest also heard that in the aftermath, some London Underground staff remained confused about what had happened, with station manager Tom O'Riordan admitting: "The first time I probably accepted (it) was just after 11am when I saw it on the BBC."
The station manager said he was told there was an explosion when he arrived at Aldgate to take on responsibility for silver control duties but did not initially know the cause of it.
He had earlier seen staff at Liverpool Street station coughing and experiencing breathing problems.
He said: "I asked them what was going on and they said they were working in the ticket office and a gush of dust came in through the little hole in the window."
When he then arrived at Aldgate Station, despite seeing injured people in the ticket hall, he was still unaware of what exactly had happened.
Liverpool Street Station control room assistant Daniel Kemp told the inquest his mother informed him there had been problems elsewhere after she rang him to find out if he was all right.
Mr Kemp, who said he was the last person to evacuate the station, added that Mr Glazer had told station staff about an hour after the bomb went off that terrorists were suspected to be behind the explosion.
He said: "[Mr Glazer] said along the lines of 'You might have heard things over the phone or from other people about what's going on', and he told us the real reason, that it was terrorists, it was a number of bombs had gone off at other stations, and we were to keep that information to ourselves and not to divulge it to the public as it hadn't actually gone public yet."
Related Internet Links
The BBC is not responsible for the content of external sites.