Fraudulent claims worth £135m uncovered by councils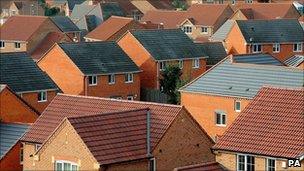 Almost 120,000 frauds costing £135m were uncovered by English councils last year, the Audit Commission has said.
Its annual fraud survey found 63,000 false benefit claims, and estimated that 50,000 properties worth £2bn had been illegally sub-let or occupied.
Dishonest claims for the 25% single person council tax discount were up and there were also 4,000 fraudulent uses of disabled parking badges, it added.
The quango warned that local government job cuts may weaken fraud controls.
But it said tenancy fraud - where people live in council houses to which they are not entitled, or illegally sub-let them - has the potential to do the most damage.
Chairman of the Audit Commission Michael O'Higgins said the figure of 50,000 properties was extrapolated from the survey results of 60 councils detecting 1,600 actual cases of housing tenancy fraud.
He said there was one case of a tenant renting a property for £50 a week, who then sub-let it to a pensioner for £225 a week.
"[It is] against the law, and was detected, but had been going on for two-and-a-half years," he said.
The annual survey is the final one before the commission is abolished under government plans to cut costs by axing 192 public bodies.
Sophisticated data matching
Mr O'Higgins urged that the role of fraud detection be maintained, despite the cuts to council budgets announced as part of the Spending Review last week.
"I would be very surprised if this function were not transferred somewhere else and we recommended that the government speak with the National Fraud Authority about how to continue it.
"We carry out a sophisticated data matching exercise - the National Fraud Initiative - every year and it would be a great shame were that not to be transferred somewhere else. It's important in the detection of fraud against the public purse."
The BBC's local government correspondent, Greg Wood, said that, in terms of total council spending, the scale of the detected fraud was minimal.
Related Internet Links
The BBC is not responsible for the content of external sites.