Newspaper review: Strong growth produces mixed messages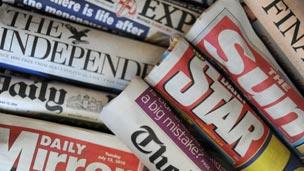 The UK's unexpectedly strong growth rate has produced mixed messages as the papers struggle to make sense of it.
And the Daily Express says while such news might have come as "a tonic" at other times, "these days it comes as nothing more than a relief".
The prospect of Russia playing a role in supporting Nato's mission in Afghanistan makes several papers.
Remembering the long history of outside interventions in the region, it says "the Great Game reasserts itself".
The Times describes that withdrawal 20 years ago as a "humiliating rout" and says a return would be "hugely emotive".
The gruesome report says they grew desperate after a scorching summer.
The Financial Times, meanwhile, reports that supermarkets are offering "cut price" deals on Christmas food and drink weeks earlier than usual.
Concerns that 50 species of mammal are at risk of extinction are described as a "crisis" in the Daily Telegraph.
But it is the death of Paul the Octopus - the creature that allegedly predicted the outcome of the World Cup - that preoccupied some of the papers.
Related Internet Links
The BBC is not responsible for the content of external sites.