Oliver and Olivia top names' list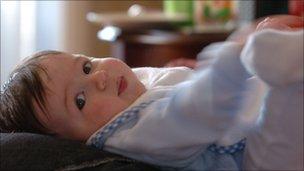 Oliver has become the most popular boys' name in England and Wales, ending Jack's 14-year reign.
There were no new entries in the top 10 for either boys' or girls' names compared with 2008, although there were regional variations.
Jack was still the top in Wales and the North East and North West of England.
Mohammed was at number 16 nationally, but was the most popular boys' name in the West Midlands, ONS said.
There was less regional variation among girls' names, although Isabella made an appearance at number six in London, while Ava and Lucy appeared in the top 10 for the North East.
After Oliver at the top of the list, followed by Jack, the rest of the top 10 in England and Wales were filled by Harry, Alfie, Joshua, Thomas, Charlie, William, James and Daniel.
The top 10 girls' names were Olivia at number one, followed by Ruby, Chloe, Emily, Sophie, Jessica, Grace, Lily, Amelia and Evie.
There were 706,248 live births in England and Wales in 2009, with 26,800 different boys' names and 34,100 different girls' names registered.
Comparing the 2009 list of top names with the lists a decade earlier, six boys' names featured in both lists: Jack, Joshua, Thomas, James, Daniel and William, with Olivia, Chloe, Emily, Sophie and Jessica also in both girls' lists.
The ONS said changes in the top 100 since 1999 showed there had been a resurgence in the popularity of names which "were perhaps once associated with people of the inter-war generation or earlier".
As examples, the ONS highlighted Evie which has risen 157 places to number 10 since 1999, Ruby (up 91 to number two) and Lily (up 45 to eight), and boys' names such as Alfie (up 60 to four) and Charlie (up 25 to seven).
It said it would have been unusual to find any of these names, other than Ruby or Lily, in official records from earlier times, as it was rarely permitted to register shortened or familiar names.
Related Internet Links
The BBC is not responsible for the content of external sites.