Safety protocol 'delayed' 7/7 fire crew at Aldgate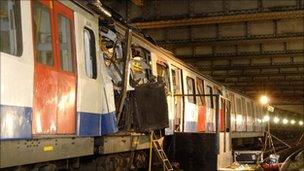 A group of firefighters refused to enter a tunnel after one of the 7 July Tube bombings because of health and safety concerns, the inquest has heard.
Police Inspector Robert Munn said there was a delay as they tried to confirm the electricity had been switched off.
He said he stepped onto the track at Aldgate and told them: "It's this way boys. Do you want to come and join us?"
A witness has also said emerging survivors there resembled a scene from Michael Jackson's Thriller video.
Shehzad Tanweer, one of four suicide bombers who carried out the 7 July 2005 attacks, blew himself up at Aldgate station, killing seven people.
The inquest is examining the deaths of 52 people who were killed by the bombers on three Tube trains and a London bus.
Insp Munn, of British Transport Police, described the situation when he arrived on site and tried to persuade one of the fire crews to walk along the track to the explosion scene.
He said: "One of them told me they weren't allowed on the tracks until the current was confirmed as being discharged.
"At that point I stood on the third rail and said to them, 'the power's off', and they said, 'we have to have it confirmed by London Underground staff'.
"There was a member of London Underground staff on the platform who I shouted to. I said, 'is the power off?' and he confirmed it.
"This seemed to take forever. In reality it was probably a matter of seconds," he added.
But he said four other firefighters were already working in the bombed carriage at the time and he admitted it was "correct protocol" to check the power was off. He also praised the work of the firefighters at Aldgate that day.
Earlier this week a survivor told the inquest she could not understand why firefighters were standing around at the station.
Lawyer Melanie O'Dell said: "We asked: 'Why aren't you going down there? There are people injured and dying down there'.
"Eventually one of them answered. He said: 'Oh, there may be a secondary device down there. There may be a second bomb'."
Insp Munn said during the evacuation a woman passenger stopped, got her camera out and started taking photographs.
He said: "In doing this she was holding up the crocodile of people that we were evacuating that were behind her.
"It was causing some agitation within the rest of the passengers, and abuse and derogatory comments were being shouted forwards towards her."
Insp Munn said he politely asked the woman to stop taking photographs but she ignored him and he eventually took her camera and threw it on the ground.
Earlier Detective Constable Antonio Silvestro had described the scene as passengers, covered in soot and dirt, came out of the tunnel into Aldgate station.
He said: "It was like Michael Jackson's Thriller video. They were just covered in soot, their hair was all over the place, you just basically saw the whites of their eyes."
Det Con Silvestro said smoke coming from the bombed train was like that from an erupting volcano.
He said survivors were emerging as he went into the darkened tunnel to get passengers out.
"I can best describe it as when a volcano erupts and you can see that really thick smoke," he told the inquest.
He said he began to evacuate people but did not realise the explosion had been caused by a bomb until a colleague, Neal Kemp, mentioned the possibility of a "secondary device".
He said: "It was only when Neal said about the possibility of a secondary device that the urgency went to another level - we had to get them out as quick as we can."
The coroner, Lady Justice Hallett, told him: "You may have been on duty that day as a police officer, but what you did went way beyond the call of duty.
"Bring told of the risk, you did not run for your life, you redoubled your efforts. You were very brave."
Related Internet Links
The BBC is not responsible for the content of external sites.