'Fauxmance' gets dictionary entry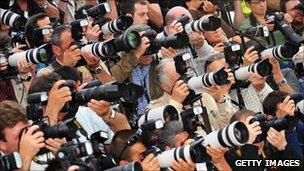 New words from celebrities, politics and TV have entered the latest edition of Collins English Dictionary.
Fauxmance, a fake romance between actors, and tweetheart, a person admired by others on social networking site Twitter, were included.
Simples!, an advert's catchphrase, and Cleggmania, referring to interest in Lib Dem leader Nick Clegg, joined them
Dictionary staff said the TV, adverts, and celebrity "continue to be a predominant preoccupation" in Britain.
But the British public are also abreast of politics, with bigotgate among the new words entering the dictionary.
It refers to then Prime Minister Gordon Brown calling a voter a bigot during the election campaign - and the ensuing fallout.
The government's coalition setup is referred to as Con-Lib, and current Prime Minister David Cameron's "broken society" phrase is defined as a perceived or apparent general decline in moral values.
Meanwhile, funemployment is a noun meaning the condition of enjoying being unemployed.
Among the television influences on language to enter the dictionary was BGT - short for the show Britain's Got Talent.
Simples, said by a meerkat on an advertisement for a price comparison website, is defined as "an expression used to suggest that something can be done or understood without any difficulty".
The world of Twitter also contributed "tweet tooth", which describes "a strong desire to send a tweet". Twitter itself first appeared in the 2009 edition of the dictionary.
The words form part of the 2.5 billion-word database, developed by compiling written material from websites, newspapers, magazines and books and spoken material from radio, TV and everyday conversations.
"The popularity of television, advertising, and the phenomena of celebrity continues to be a predominant preoccupation with the British public.
"Never far from the headlines, it is unsurprising that a barrage of media has infiltrated the minds of the UK - to the point where coined words BGT, simples! and fauxmance have been warranted inclusion," said Elaine Higgleton, editorial director of Collins English Dictionaries.
Related Internet Links
The BBC is not responsible for the content of external sites.