Newspaper review: High stakes over EU budget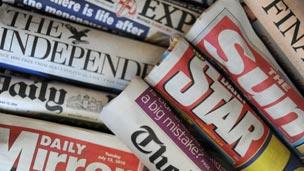 David Cameron's first EU summit as PM and debate around its 2011 budget level are covered in most of the newspapers.
The paper says that could mean the UK's next generation of fast jets flying off the Charles de Gaulle aircraft carrier.
Both papers agree that it will see the two countries embark on an unprecedented level of co-operation.
Planning approvals are at an all-time low, the newspaper says.
Related Internet Links
The BBC is not responsible for the content of external sites.