Newspaper review: High stakes over EU budget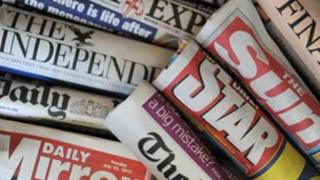 David Cameron's first EU summit as PM and debate around its 2011 budget level are covered in most of the newspapers.
The Daily Telegraph reports that Mr Cameron is preparing to "retreat" from his pledge to try to cut the EU budget.
The Daily Express says he sees the summit in Brussels as the start of a "long slog" to protect the UK's rebate.
And the Independent says even if he manages to limit a budget rise, he will be open to accusations of "falsely raising expectations" of success.
Entente cordiale
The Financial Times seems sure Britain and France will sign a defence treaty next week.
The paper says that could mean the UK's next generation of fast jets flying off the Charles de Gaulle aircraft carrier.
The Guardian goes further, saying the co-operation may stretch across all three branches of the armed forces and include simulated nuclear tests.
Both papers agree that it will see the two countries embark on an unprecedented level of co-operation.
Power failure
The Independent tells us it has seen figures showing plans to build thousands of onshore wind farms have been jeopardised by local campaigners.
Planning approvals are at an all-time low, the newspaper says.
The Daily Mail, meanwhile, reports old water mills and wheels are set to make a comeback under government plans.
And the Daily Mirror reports that Labour leader Ed Miliband has issued a dramatic plea to the Lib Dems: Help me stop the savage spending cuts.
Murder mystery
Several papers continue to cover the fate of the "Emperor of Exmoor" stag. The Daily Express tells us nobody has produced any evidence of a kill.
The Daily Mirror says locals in north Devon claim to have seen the animal alive, quoting farmers saying the death is a "myth" invented to deter hunters.
For the Times, the case is turning into a murder mystery.
Finally, the Daily Star tells us Wayne Rooney and wife Coleen have sealed their love in sun-drenched Dubai.