Six water companies 'fail to hit leakage targets'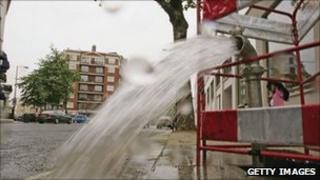 More than a quarter of all water companies in England and Wales failed to do enough to tackle leaks last year, the industry regulator Ofwat has said.
Ofwat's annual report said while companies continued to deliver safe, reliable supplies, six out of 21 firms did not meet their leakage targets.
Worst was Yorkshire Water, which lost an average of 295 million litres a day.
Thames Water paid £60,000 compensation after finding 4,000 unread customer e-mails dating back seven years.
'Tough action'
Last year, all companies met their annual leakage targets. This is the first time so many have failed to hit them.
But it is thought last year's harsh winter, which saw a surge in the number of burst pipes being reported, may have played a part.
Yorkshire Water's leakage was equivalent to more than 120 Olympic swimming pools of water a day.
Regina Finn, chief executive of Ofwat, said failing companies would be forced to improve.
"These companies are on watch, they know that we'll take tough action. We have in the past - we've made companies invest their own money in fixing these leaks. We expect these companies to restore their service," she said.
The report for 2009-10 also showed complaints had fallen to their lowest levels for four years and drinking water quality was still among the best in Europe.
It found all companies achieved their targets to make sure supplies met the demand from customers.
Bounced back
Thames Water said the unread messages were sent to an e-mail address starting "customerfeedback" rather than the correct "customer.feedback" address.
The company only noticed the error in March and has paid compensation to the customers it could identify.
A Thames Water spokesman said: "The messages should have bounced back when customers missed out the dot but they somehow ended up in an inbox we were not aware of.
"We are sorry for the error but putting it into context we get 3,000 contacts from customers every day and this is over seven years."
The spokesman added that 1,200 customers had received £40 compensation each and 600 had been given £20.