No terror arrests from stop and search, says government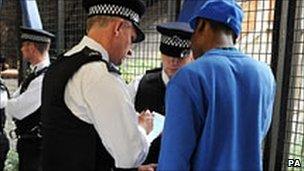 Not one person stopped and searched under anti-terrorism powers in Britain was arrested for terrorism-related offences last year, figures show.
The Home Office statistics also showed no terror suspects had been held in custody before charge for longer than 14 days since 2007.
In all, 101,248 people were stopped and searched in England, Wales and Scotland under Section 44 of the Terrorism Act.
Of the 506 arrests that resulted, none was terrorism-related.
Since July, police are not allowed to stop and search people unless they "reasonably suspect" them of being a terrorist.
Of all the searches, four out of five were made in the Metropolitan Police area, with almost a fifth being made by British Transport Police.
Overall, 59% described themselves as white, 17% as Asian or Asian British, 10% as black or black British and 2% as of mixed ethnicity, the figures showed.
They also showed the use of stop-and-search powers fell by 60% compared with 2008-09.
The latest figures are likely to raise questions about the future of controversial powers which allow police to detain terror suspects for between 14 and 28 days before charging them.
Detention and stop-and-search powers are being looked at as part of a review of the government's counter-terrorism policy by the Liberal Democrat peer Lord Ken Macdonald, whose findings are due to be published shortly.
It involves police, spies, public officials and campaigners, and will also focus on control orders, deportation of terror suspects and the use of surveillance by local authorities.
Shami Chakrabarti, director of civil rights group Liberty, said the statistics highlighted what a "crude and blunt instrument" stop and search had been.
"It costs us dearly in race equality and consent-based policing with very little return in terms of enhanced security," she added.
Alex Deane, director of Big Brother Watch, which campaigns against intrusions into privacy, said the figures were not surprising.
"Rather than a genuine counter-terrorism tool, random stop and search has been a way of bullying and hassling our increasingly abject population," he added.
"We have to decide what kind of society we want to live in. Random stop and search allows the state to confront the individual in the street, without cause, and demand your papers. It's wrong."