Killers remain at large despite recall to prison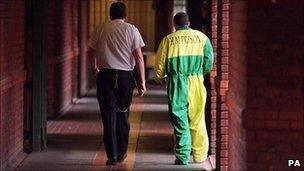 A total of 20 killers remain at large despite being recalled to prison, Ministry of Justice figures show.
Some 942 offenders in England and Wales were still free even though their licences had been revoked, including 19 murderers and one case of manslaughter.
Offenders can be recalled if they break their probation terms or are suspected of another offence while on licence.
The government said "more than 99%" of recalled offenders were successfully returned to custody.
The total of 942 offenders at large included 98 of the 3,702 recalled between April and June 2010.
The figures showed that 316 of the total had been on the run for more than five years.
The total included 147 offenders guilty of violence against the person, including murder, manslaughter and attempted murder.
There were 32 sex offenders, including seven convicted of child sex offences and eight rapists or attempted rapists. The total also included 113 robbers and 124 burglars.
Some 381 cases were being dealt with in London, 93 in the West Midlands, 41 in Greater Manchester and 29 in both Merseyside and Thames Valley.
A government spokesman said: "Over the last 10 years, in over 99% of cases where an offender has been recalled, the individual has successfully been returned to custody.
"Having a system that allows offenders to be recalled to custody if they breach their licence conditions is key to protecting the public".
Previous Ministry of Justice figures, released in July, showed 18 murderers and four people convicted of manslaughter were still on the run.
Related Internet Links
The BBC is not responsible for the content of external sites.