Holiday firms warn over 55% Air Passenger Duty rise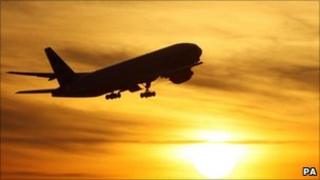 Air taxes are to rise by up to 55% on Monday, making some trips unaffordable, the travel industry has warned.
A family of four flying in economy to Australia will now pay £340 in total taxes - an extra £120.
The same family to the US will pay 33% more Air Passenger Duty (APD), up £60 to £240. APD on premium class fares is double that of economy.
The government said the rises were set by the previous Labour administration, and reform was being considered.
'Huge driver'
Sir Richard Branson's airline Virgin Atlantic said the rise would put annual family holidays out of reach for many.
Virgin Atlantic chief commercial officer Julie Southern told the BBC: "Air Passenger Duty has risen three times in recent years, and what we're saying very clearly to the government is enough's enough.
"This is not just about people travelling on holiday, this will also affect tourists coming to the UK who will pay this tax on departure.
"We know that tourism is a huge driver of economic growth in the UK, so we really shouldn't be disincentivising people from visiting us."
British Airways chief executive Willie Walsh said the increases would cost BA an extra £100m and put more pressure on ticket prices.
He said: "I think these taxes are a disgrace. I don't think they can be justified at any level.
"My concern around the taxes is the damage that they're doing to the UK economy.
"The government can clearly identify how much money they're raising but I've challenged the Treasury to calculate how much the economy is losing out as a result of making the UK a much more expensive place to do business."
'Disproportionate damage'
Budget airline Easyjet said APD was a "bad environmental tax" because it did not link the level of tax with emissions.
Chief executive Carolyn McCall said: "The government should reform Air Passenger Duty to make it fairer for the public and to encourage greener behaviour by airlines.
"APD is already higher in the UK than anywhere else in Europe, and UK passengers and the environment would be better off if the tax was shifted from per person to a per plane tax."
Travel industry body Abta said the increases would have a disproportionate effect on families with tight budgets.
However, environmental group Greenpeace said it was time the aviation industry "pulled its weight at a time of huge cuts to budgets".
A spokesman said: "The aviation industry currently pays no VAT on fuel like the rest of us, and yet does a disproportionate amount of damage to our environment.
"Adding a small increase to APD goes some way to redressing the balance but we believe that ultimately a per plane tax would be a fairer tax."
'Complete revamp'
APD for flights under 2,000 miles in economy class will be £12, with duty on premium tickets at £22.
For journeys of between 2,001 and 4,000 miles the cost will be £60 in economy and £120 for other seats.
For flights of between 4,001 and 6,000 miles, the cost will be £75 in economy and £150 in premium classes. And flights of more than 6,000 miles will cost £85 and £170 respectively.
The mileage limits are just a rough guide as, for example, all trips to the US fall within one band, while those to the Caribbean are charged at a higher rate.
It means that people flying eight hours to Barbados, for example, will pay £15 more tax - £30 for those in premium seats - than those heading four hours further to Los Angeles.
Bob Atkinson, from the travelsupermarket website, said: "The tax bands aren't consistent. APD is a flat tax and is therefore regressive. The tax should apply to the actual mileage or as a percentage of the total paid.
"There needs to be a complete revamp of the APD scheme. It should be replaced by a per plane tax so that we can then see the environmental efficiency of each airline and their aircraft."
The government has cited environmental reasons for recent APD rises, saying they are an important contributor to the public finances, and help it achieve its green goals.
APD, an airport departure tax, is automatically added to the ticket price when it is booked.
A Treasury spokesman said: "The current rates of tax and the increases that are due to take effect from 1 November 2010 were set and legislated by the previous government.
"The coalition government is currently exploring changes to the aviation tax system and is committed to public consultation on any major changes that may be introduced."