Newspaper review: Housing benefit 'war' stays on agenda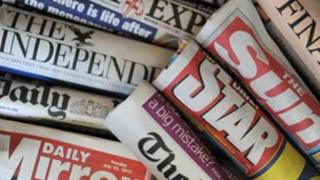 The fallout from the coalition government's proposals to cap housing benefit continues in the papers.
The Daily Mail says the PM and Boris Johnson are "at war" over the London mayor's comment that the plans could mean "Kosovo-style social cleansing".
The Mirror says the row has blown the coalition's claims the cuts are "fair" out of the water.
Mr Johnson's claim "sent shockwaves" through the coalition, says the Times, and Number 10 was "rattled" by it.
Andrew Gilligan tells Boris, in a Daily Telegraph comment piece, not to worry.
He believes the cuts will be a vote winner as most "working Londoners" can't afford the rents and are angry that some "get everything laid on".
For the Independent the row is just another chapter in a long-running rivalry between Mr Johnson and the PM.
Meanwhile, in the Guardian, Housing Minister Grant Shapps dismisses worries about the cuts as "nonsense", saying there will be no rise in homelessness.
None of the papers hold out much hope for Barack Obama that his Democratic Party will do well when the US goes to the polls next week in the midterms.
The president is at a "turning point" according to the Independent and that may mean he has to adopt a "different tack" for his future plans.
Trevor Kavanagh, writing in the Sun, says the president is a "lame duck leader" who can expect a hammering at the polls.
The Mirror calls Obama "desperate".
The Guardian says UK bosses are accused of ignoring economic reality after boardroom pay rose 55% last year.
Business Secretary Vince Cable is "on a collision course" with high earners as he attempts reform, says the Financial Times, adding that news of these inflation-busting rises undermines him.
On the first public speech by a serving head of MI6, the Telegraph says it's a sign something is "badly amiss".
The Express asks what's the point of a secret service without secrecy?