Newspaper review: Housing benefit 'war' stays on agenda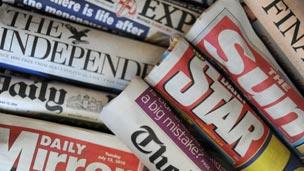 The fallout from the coalition government's proposals to cap housing benefit continues in the papers.
Mr Johnson's claim "sent shockwaves" through the coalition, says the Times, and Number 10 was "rattled" by it.
Andrew Gilligan tells Boris, in a Daily Telegraph comment piece, not to worry.
He believes the cuts will be a vote winner as most "working Londoners" can't afford the rents and are angry that some "get everything laid on".
None of the papers hold out much hope for Barack Obama that his Democratic Party will do well when the US goes to the polls next week in the midterms.
The Mirror calls Obama "desperate".
Business Secretary Vince Cable is "on a collision course" with high earners as he attempts reform, says the Financial Times, adding that news of these inflation-busting rises undermines him.
On the first public speech by a serving head of MI6, the Telegraph says it's a sign something is "badly amiss".
Related Internet Links
The BBC is not responsible for the content of external sites.