Aldgate firefighters were 'hostile', 7/7 inquests hear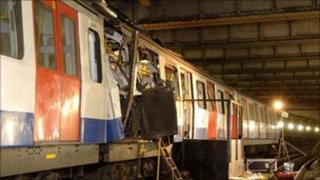 Firefighters at the Aldgate terrorist bombing were "hostile" and "quite upset", the 7/7 inquests have heard.
Paramedic Anthony Cumner was in the first ambulance to arrive at the Tube station after the 7 July 2005 attack.
He told the hearings that firefighters "did not understand the role" of the initial ambulance which was to report the situation back to the control room.
The inquests are into the deaths of 52 people who were killed by suicide bombers on three Tube trains and a bus.
'Covered in soot'
Mr Cumner said the firefighters were "demanding" that he take some of the injured to hospital, including Emma Brown who had severe shrapnel wounds to her stomach.
He told the hearings that he tried to explain that this was not his role, and that the firefighters were "not helpful."
Shehzad Tanweer, one of the four bombers who carried out the London attacks, blew himself up on an eastbound Circle Line train at Aldgate station, killing seven people.
Mr Cumner, who at the time had 22 years experience as a paramedic with the London Ambulance Service, and his colleague Andrea Ray arrived at Aldgate about 20 minutes later.
He told the inquests: "As I left the vehicle, I could see a number of people outside the station who indeed did look like they were covered in soot.
"Some of these people were standing, some were sitting and some were lying down."
'Hostility and panic'
In debriefing notes after the incident, he wrote: "Firefighters insisting that we take a number of casualties at the station entrance.
"I declined, explaining that we were the first ambulance on and could not convey any patients but had to evaluate the situation, and I had to take on the role of incident officer until relieved.
"This was met by some hostility and panic from the firefighters."
Mr Cumner added in brackets: "Not helpful".
Paramedics held a debriefing session at Millwall Football Club in south London at the end of the day, the hearings were told.
Minutes from the meeting showed complaints among the paramedics included "communications very difficult to get through", "not enough pain relief in packs" and "five different people telling you five different things".
'Golden hour'
Paramedics based in Camden, north London, said they were left to watch events unfold on television before being sent to help survivors.
A memo said: "We felt we were badly deployed - we waited a long time before being deployed."
Sean Clarke, the first senior firefighter to arrive at Aldgate, told the inquests there was a misunderstanding about the role of the initial paramedics on the scene.
He said: "We are always taught about the golden hour, how to get people out of a situation and get them care as quickly as possible within the first hour.
"And, naively perhaps, we think that the ambulance service are there to do that, to ferry them off and get them away from the situation."