Newspaper review: 'Ink bomb plot' dominates papers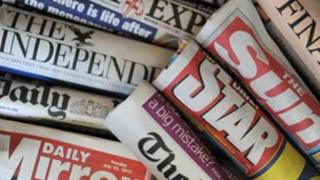 The image of a computer printer cartridge - apparently doctored to contain explosive material - appears on the front of most of Saturday's newspapers.
The Daily Mirror brands those behind the suspected plot the "ink bombers".
The Sun says "dirt-poor Yemen", now at the centre of the terror investigation, is a "ramshackle state" that has recently become an "al-Qaeda haven".
Yemen is struggling to deal with "a virulent and extremely agile new brand of al-Qaeda", adds the Times.
'Money is power'
David Cameron's battle to rein in the EU budget hike also makes headlines.
The Daily Telegraph thinks he "probably did the best that he could" in keeping it to 2.9%, but "must be firmer" with European colleagues in future.
"If money is power, any increase in subsidy represents a transfer of authority to Brussels," it adds.
The Daily Express repeats its oft uttered call for a referendum on the whole issue of UK membership in the "dismal, wasteful and unaccountable" EU.
'Leftist hysteria'
"Savagery" - that's the Guardian's view of the coalition government's plan to cap housing benefit at £400 a week.
"The cost of slashed subsidies and squeezed rent support will surely be counted in squalor and homelessness," says its editorial.
In complete contrast, Max Hastings, in the Daily Mail, brands opposition to the reforms "leftist hysteria".
"Most of us take for granted the necessity to move home if our circumstances change," he adds.
Old or wise?
As England's cricketers jet off to Australia ahead of the Ashes, James Lawton, in the Independent, warns them to drop the "bullish noises" and try to win "as stealthily as possible".
"Nowhere, after all, are the natives in less need of stirring up," he adds.
Former Australia fast bowler Geoff Lawson predicts a 2-1 win for his countrymen.
The side has plenty of experience for a start, he tells the Times, but admits that's "a quality that is renamed 'ageing' when you start to lose".