Newspaper review: US mid-terms in the spotlight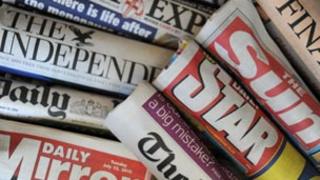 The US mid-term elections occupy many papers with the Daily Mail predicting the Democratic party is heading for its worst rout in 68 years and a backlash.
President Obama will pay for failing to stem unemployment amid fears the American dream is beyond the reach of many, the Daily Telegraph reports.
The Independent believes the US will awake to a new political reality.
The Guardian believes Mr Obama has to decide whether to move to the centre to seek compromise with the Republicans.
Entente frugal?
There are many sceptical voices about plans for increased military co-operation between Britain and France.
The Sun argues neither David Cameron or President Sarkozy would have cooked up such a wing-and-a-prayer strategy if both countries were not broke.
The Financial Times reports that the co-operation will also extend to the defence contractors in both countries.
According to the Daily Express, the deal "raises serious concerns" about Britain's military independence.
Adoption changes
The Daily Mirror says Nick Clegg is facing a mass revolt by his MPs over university tuition fee increases.
The paper says the rebellion could be an opportunity for him to bring back shamed ex-Cabinet minister David Laws.
The Times leads with news of the end of barriers preventing black or Asian children being adopted by white couples.
In an interview, Children's Minister Tim Loughton says a "good, loving, stable, permanent home" should be the number one consideration, not race.
JFK's speechwriter
There are tributes in many papers to the man the Independent calls the backbone of John F Kennedy's Camelot.
It says Ted Sorensen was perhaps the greatest presidential speechwriter while the Daily Telegraph says JFK's 1960 election owed much to his talents.
Such was the closeness of the collaboration, it suggests, that no one was quite certain who wrote what.
The Times says he had a genius at finding the right phrase. The Guardian says he was also an important counsellor on domestic policies and politics.