Newspaper review: Papers focus on 'fallen' Obama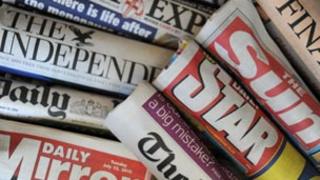 The face of a dispirited-looking Barack Obama can be seen on many front pages.
The Guardian sees "contrition, but little sign of compromise" from the White House, after the Democrats saw their worst mid-term defeat in 70 years.
For the Daily Telegraph, Barack Obama is "the fallen idol".
The Daily Mail believes the Tories have much to learn from the results, saying they should serve as a warning that people will not tolerate "liberal political elites who lose touch".
Student costs
The Daily Mirror says coalition plans to allow universities in England to charge students up to £9,000 a year in fees are a "lesson in hypocrisy".
Its leader article says the policy will have little effect on the well-off but will penalise "ordinary homes".
The measure is also a concern for the Daily Express, which says many students will leave university £40,000 in debt once living costs are factored in.
It suggests the government should cut its foreign aid budget to save money.
Cosmetic 'pressure'
The Sun is infuriated that two men were allowed to shout out at the Old Bailey after a Muslim student was jailed for stabbing Labour MP Stephen Timms.
It says the duo, who reportedly abused the judge and berated a Muslim woman in the jury, should have been punished.
Meanwhile, the Independent is bemused that many high-powered businessmen seem to be turning to cosmetic surgery.
A growing pressure to appear young and dynamic has led senior business figures to resort to such practices, it says.
Fall Guy
Several papers report that residents of the village of Edenbridge in Kent will celebrate Guy Fawkes night by burning a 49ft-high effigy of Wayne Rooney.
The Daily Star says effigies of Saddam Hussein, Gordon Brown and Tony Blair have been burnt in the past.
But its leader writer suggests England fans would have preferred it if "Rooney had been on fire during the World Cup".
Dressed in full kit, the Rooney "fall Guy" clutches a copy of his new five-year contract, notes the Independent.