Sunday papers: Focus on spending cuts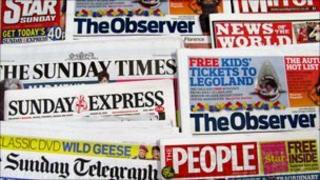 The predicted impact of the spending cuts continue to occupy the newspapers.
The News of the World claims the public purse would be in better shape if the government could keep tabs on National Insurance payments and tax credits.
The Sunday Mirror says housing benefit cuts will devastate the lives of the poorest, while the Daily Star Sunday predicts soaring bankruptcy in north west England and the east Midlands.
The Observer, meanwhile, tells us the downturn has revived rave parties.
'Toxic'Papers mull spending cut impact
Prime Minister David Cameron's decision to put a photographer on the public payroll has been widely criticised.
The Sunday Times' Martin Ivens says it is a bad mistake in an age of austerity to effectively make the taxpayer "pay for his family photo album".
The Mail on Sunday says it is a "toxic" appointment that will "stalk him for years" and adds that a government unit already exists for taking photos.
The Sunday Express calls it a "terrible error of judgment".
'Scroungers'
Government plans to change the benefit system mostly come in for praise.
The Sunday Telegraph considers the proposals by the welfare secretary as a "clampdown on the work-shy".
The Sunday Express says generations have never worked and seem to think the State owes them a living.
The People calls some claimants "loafers" and "scroungers" but says those who cannot work must be protected. There must be jobs for those who want them, the paper tells us.
Cold comfort
US President Barack Obama's mid-term election woes draw plenty of comment.
A Sunday Times cartoon shows him as Superman but on the ground after flying into an obstacle called "reality".
But Andrew Rawnsley in the Observer argues he is well-placed to win a second term saying Republican policies have had no "ringing endorsement".
Finally, the Sunday Telegraph is delighted by the discovery of what may be the UK's oldest continually working fridge - a 1947 English Electric.