Newspaper review: Riots aftermath dominates papers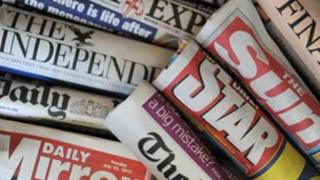 Violence at the students' demonstration is on all front pages with a picture of a demonstrator kicking in a window at Millbank Tower widely used.
The Daily Mail says militants from far-left groups whipped up a mix of middle-class students and younger college and school pupils into a frenzy.
The Sun's headline is "Brainless," describing: "The yobs who hijacked uni demo AND the Met chief who let them".
Police were caught out by the scale of the action, says the Guardian.
'Weaken arguments'
For the Independent, the riots marked the end of the coalition government's era of consensus.
The impact of the demonstration was to weaken the arguments over higher education finance rather than advance them, says the Daily Express.
For the Daily Mirror, the riot diverted public attention away from the issue of children of low and middle income families being priced out of education.
It said the law-abiding majority would be sickened by the disorder.
'Oxbridge scarves'
According to the Times, ministers are watching for any sense that the disorder represents a change of mood.
The Guardian says ministers in both parties were shaken by some of the most violent scenes on the streets of London since the poll tax riots in 1990.
Its writer Michael White notes that the student marchers of 2010 seemed better dressed than their predecessors, with some sporting new Oxbridge scarves.
Neat hijabs reflected modern Britain's multi-cultural face, he observes.
Miners' demands
The Telegraph ponders what it calls a peculiarly modern etiquette dilemma: how to observe the two-minute silence on Armistice Day in a busy office.
It reports a survey has suggested that while two-thirds of people intend to refrain from talking, nearly half consider it acceptable to send e-mails.
The Independent says the 33 men freed from the mine in Chile have accepted an Israeli offer to visit the Holy Land.
But it says they want Israel to pay for them to take 70 companions with them.