Newspaper review: Papers dissect benefit reforms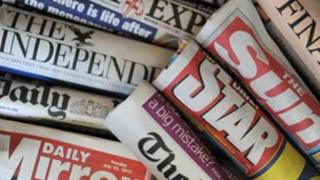 "Bold and principled" is how The Daily Telegraph describes the welfare changes proposed by the Work and Pensions Secretary Iain Duncan Smith.
The paper says it is the first serious attempt by any government to change a corrupt and wasteful benefit system.
According to the Telegraph, it will be on this reform above all others, against which the success of the coalition is measured.
The Independent says the thrust of the changes are right.
But it is worried they are being implemented at a time of very high unemployment and it will be difficult to push the jobless into work.
The Daily Mail believes the measures will end "the politics of the madhouse" where jobs were created but British workers "were unwilling to fill them".
But The Daily Mirror says they are the "harshest benefits rules ever devised".
It claims single parents will face huge difficulties in finding jobs that fit around school hours.
The Times leads with criticism that the pensions of war widows are facing cuts.
With two days to go before Remembrance Sunday the paper has printed a letter from Vice-Admiral Sir Michael Moore, chairman of the Forces Pension Society.
He is angry that in the future pensions will be linked to the CPI measure of inflation, rather than the historically more generous RPI.
The Ministry of Defence says it is not possible to treat the Armed Forces differently from other public services.
The Guardian describes the daily rituals of Burmese opposition leader Aung San Suu Kyi.
It says that every morning she meditates before turning her attention to one of five radios tuned to stations around the world - including the BBC.
The Daily Mail carries a bizarre story about the actor Dick Van Dyke who claims he was once saved by porpoises.
The former keen surfer fell asleep on his board, drifted out to sea but was guided back to shore by porpoises.