Christmas campaign launched to tackle fake goods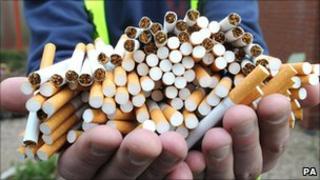 Shoppers are being warned against buying counterfeit goods, the sale of which can help finance serious organised crime, a charity says.
A Crimestoppers campaign will highlight how those who sell counterfeit goods are often controlled by human-trafficking and drug-smuggling gangs.
Shoppers are more likely to buy fake DVDs, cigarettes and clothes over the Christmas period, it says.
Counterfeit goods cost the UK economy billions of pounds each year.
'Livelihoods at risk'
The Crimestoppers campaign, which will be divided into strands covering fake DVDs, money, tobacco and fashion, will see beer mats and posters being distributed in pubs and clubs.
It is being run with the support of the Home Office, the Serious Organised Crime Agency (Soca), the Federation Against Copyright Theft (Fact), the Bank of England, the Film Distributors' Association (FDA) and clothing company Pentland.
The Intellectual Property Crime Group estimates that in 2009, the UK audio visual industry suffered a £535m loss in sales due to copyright theft. It is also claimed the British public spends £3bn on fake clothing each year.
In a recent YouGov survey, commissioned by Crimestoppers, 24% of adults said they had knowingly bought a fake DVD.
Human trafficking
The founder and chairman of Crimestoppers, Lord Michael Ashcroft, said: "Christmas is a time when many are trying to find ways to reduce costs. I would urge the public not to be tempted to buy cheap fake goods.
"The consequences are far wider than the simple transaction. It can fund serious crimes such as human trafficking."
Kieron Sharp, director general of Fact, said: "We know that the trade in counterfeit DVDs is controlled by serious organised criminals who are using this to generate substantial profits.
"The trail from the DVD street seller leads all the way back to the gangs who smuggled that person into the UK.
"The human and economic impact of such criminality is severe, with the livelihoods of over 150,000 people who work across the UK's film and TV industry put at risk."
A spokesman from Soca said there were examples of organised crime groups who used proceeds from counterfeiting to fund contract killing, weapons trafficking, prostitution, drug trafficking and people smuggling.
He said: "Like any legitimate business, they spread the risk by using the proceeds from one area to fund others.
"There is no doubt that buying counterfeit products puts money into the pockets of serious organised criminals who use that to commit other crimes."