Newspaper review: Irish economy woes dominate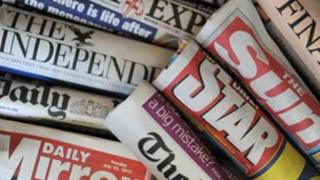 Ireland's financial troubles again fill several front pages. Ireland is "on the brink", according to the Independent.
The paper says Dublin needs to change course from slashing public spending, towards European bail-out funds.
The Guardian says the Irish government is becoming increasingly isolated.
The paper says Dublin has already lost what it is fighting for - sovereignty over the economy - and must hold to account those who took the decisions that led to the crisis.
Alarm bells
The Financial Times accuses Europe of "bullying" Ireland into a bail-out.
The Daily Mirror says that what has happened in Ireland should sound alarm bells in the UK.
Jeremy Warner writing in the Daily Telegraph says the UK can reasonably congratulate itself for refusing to take part in the euro.
But the country must not gloat, he adds, for if the euro disintegrates it could destroy the nascent recovery here.
'Enormous guilt'
Many of the papers, including the Sun, the Daily Express and the Guardian, have a photograph of Anni Dewani on their front pages.
She was killed by armed robbers while on honeymoon in South Africa. The Daily Mail has an interview with her husband.
Shrien Dewani said he and his wife headed to a township to see what he called the "real Africa".
He said he felt "enormous amounts of guilt" but could not see how they could have done things differently.
Tree space
Toyshop bosses are called "barmy" in the Sun for removing a plastic pig from a children's farm set - in case it upset Muslim and Jewish parents.
The Early Learning Centre chain said the decision to remove the pig was a reaction to feedback from customers in other parts of the world, but it would now be reinstated.
According to the Daily Express, a "half" Christmas tree has gone on sale.
It fits flush against a wall and is perfect for those who are short on space.