Newspaper review: Papers examine government accounts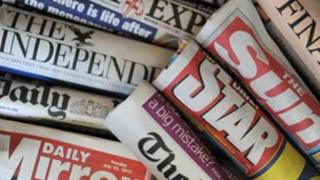 The government's accounts - which have been published for the first time - have piqued the interest of the press.
The Independent examines the "eye-catching" ways taxpayers' money has been spent, including an HM Revenue and Customs £17,000 bill for bottled water.
The Guardian believes the payments reveal Whitehall's struggle to wean itself off high-cost contracts.
The Sun warns of a possible conflict of interest for Deputy Prime Minister Nick Clegg, whose office paid his wife's law firm £88,000.
The Daily Mail says there is no doubt the payments were perfectly justifiable but they somewhat mar what would otherwise be a victory for transparency.
'Out of touch'
Tory peer Lord Young tells the Daily Telegraph that most British people are better off because of low interest rates in the "so-called recession".
But the paper believes the coalition's critics will use his comments to show that the government is out of touch.
The Times leads on the prospect of the Nobel Peace Prize not being handed out for the first time in 106 years.
It says Russia has backed China's attempts to stop dissident Liu Xiaobo's family from collecting the award.
The Irish Republic's economy continues to make the headlines, as the country moves closer to a financial bail out.
The Guardian says reality has kicked in after a team from the International Monetary Fund arrived in Dublin to clean up the mess.
Anti-ageing
The Daily Mail reports that doctors' receptionists could be sacked if government plans to replace them with call centre staff get the go ahead.
Critics fear the new system could lead to a "floodgate of mistakes".
The Daily Express is excited by the news that scientists have identified an anti-ageing enzyme that protects cells from decay.
It could mean the development of drugs that help people live well beyond 100.
Meanwhile royal wedding fever remains rife with speculation that it could result in a bank holiday, delighting the Daily Mirror.
It says the idea is "sensible" as otherwise there could have been "mass work absenteeism" on the happy day.