Newspaper review: Pope's condom remarks seized upon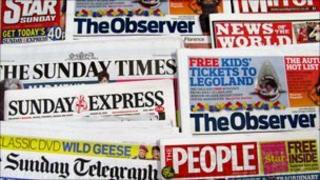 Many papers seize on Pope Benedict's comments that the use of condoms could be justified in exceptional cases.
In the words of the Observer, the pope has overturned traditional Catholic teaching with the pronouncement.
The Sunday Telegraph says the publicists for the book in which the remarks appear were right to call him the "Pope of surprises".
The Sunday Times says the turnaround follows calls from some cardinals for a more humane approach to HIV.
'Ireland in need'
Ireland's economic woes feature on the front page of the Observer with one large union warning of civil unrest.
The Independent on Sunday says Irish ministers face an embarrassing climb-down over their insistence that the Republic's low corporation tax rate should not be raised as part of a deal.
A Sunday Express cartoon likens Irish Prime Minister Brian Cowen to BBC Children in Need mascot Pudsey Bear.
Under the caption "Ireland in need", EU officials and others advance towards him.
Prince William praised
The Sunday papers savour their first chance to talk about the royal wedding, with some publishing opinion polls suggesting many people would prefer Prince William to succeed the Queen.
The Sunday Times leads with the poll - in which 44% said they believed the Prince of Wales should step aside.
Similar findings emerge from polls in the People and the News of the World.
The Sunday Mirror applauds Prince William for quickly returning to his RAF duties after the announcement.
Rail row?
And meanwhile talk of a cabinet split interests the Observer, which it says is over a decision by the education secretary to cut more than £160m of sports funding from schools in England.
Concerns are said to have been raised by Deputy Prime Minister Nick Clegg and Health Secretary Andrew Lansley.
According to the Telegraph there are also divisions over plans to build a high speed London-Birmingham rail link.
It says three ministers are prepared to risk their jobs over it.