Newspaper review: Papers weigh-up Irish bail-out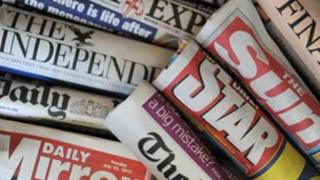 The Daily Telegraph reports that uncertainty over the Irish financial bail-out has led to a sharp fall in the price of shares in British banks.
The banks have large outstanding loans in the Irish Republic, it says.
The paper explains that calls for a general election in the Irish Republic led the markets to fear that the government there might collapse.
The Guardian says the mood was "reminiscent of the days after the collapse of Lehman Brothers".
Reform call
The Times argues that refusing to participate in the Irish bail-out would damage the UK's banks and trade, as well as its public finances.
"Schadenfreude without action would be risky", says the paper's leader, which concludes that now is not the time for "economic isolation".
There is concern in the Financial Times that the emergency loans will not solve the Republic's problems.
That is unless its banking system undergoes fundamental reform, it says.
Alcohol move
There is an image of suspected Nazi war criminal Samuel Kunz, who died in Germany last week aged 89, on the front page of the Independent.
The paper believes that, in the interests of justice, the process of bringing suspected former Nazis to trial must be speeded up.
Meanwhile, the headline in the Daily Mirror is "drinking up time".
It reveals that a 50 pence per unit minimum charge on alcoholic drinks may be on the way in Manchester.
Robot revisited
As the government unveils its migration cap, the Sun urges ministers to target bogus colleges.
The paper says many non-EU migrants claim to be in the UK to study, "yet some can't even speak English".
The Daily Mail reports that a robot used to persuade people such machines would be the domestic servants of the future has been unmasked as a fraud.
"George" was shown vacuum cleaning, baking a cake and doing the shopping in newspaper photographs in the 1950s.